Ambit Energy Hit With Class Action Lawsuit
January 1, 2015
By Tina Williams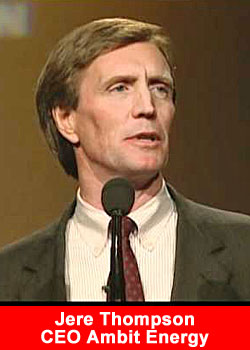 Ambit Energy Holdings LLC was hit with a putative class action in New Jersey federal court, claiming the energy company lured customers into switching providers with promises of lowered gas and electric bills, then slammed them with exorbitant rates.
Michael Urbino, a New Jersey resident, and Brian Whitney, who hails from New York, filed suit against the Dallas-based utility, claiming the company has taken advantage of its customers in their states and others by shifting the risk of the volatile gas and electricity markets with variable rates that can spike quickly and leave customers promised lower rates holding the bag.
"Like the risky adjustable-rate mortgages that contributed to the financial crisis, Ambit's variable energy rates can fluctuate rapidly and have no ceiling," the complaint said. "Yet Ambit conceals this financial risk with an extensive marketing campaign that bombards consumers with promises of consistency and savings while failing to warn consumers of the factors affecting Ambit's variable energy rates and that those factors can drastically turn."
According to the complaint, Whitney was wooed into switching his gas and electric accounts to Ambit in January 2011, while Urbino switched carriers in early 2012. Both had been convinced they would see savings, the documents said, but Whitney was shocked to receive a bill $500 higher than his service from National Grid PLC, while Urbino received bills as much as 60 percent higher than the ones he was getting from Public Service Electric & Gas Co.
Whitney and Urbino are representing a class of as-yet-undetermined size, but one that would include all Ambit Energy customers in New Jersey, New York, California, Connecticut, Delaware, Illinois, Maryland, Massachusetts, New Hampshire, Pennsylvania, Rhode Island, Texas, Virginia and Washington, D.C.
The suit includes a count of violating the New Jersey Consumer Fraud Act, four counts of violating the New York General Business Law, a count of breaching the covenant of good faith and fair dealing and one of unjust enrichment.
The plaintiffs are seeking actual and statutory damages with trebling as applicable, plus punitive damages, attorneys' fees and court costs. The plaintiffs also seek declaratory and injunctive relief deeming the variable rate policy unlawful.
Representatives for Ambit did not immediately respond to a request for comment.
Ambit isn't the only third-party energy provider facing a lawsuit in New Jersey over wildly fluctuating energy rates.
In June, the New Jersey attorney general's office announced state court actions against Palmco Energy NJ LLC, Hiko Energy LLC and Systrum Energy, for allegedly luring customers to switch utility providers by falsely assuring them they would save money.
According to the complaints, filed in May in Mercer County Superior Court, the three companies misled customers into believing they would see receive competitive monthly pricing or reductions in their monthly electric or natural gas bills if they changed companies. But instead of saving money, the consumers saw their energy bills skyrocket when the energy suppliers charged them much more than their previous providers, the state alleged.
The state also accused Palmco and Hiko of switching customer gas or electric accounts without the consent or knowledge of consumers — a practice known as "slamming." About 1,463 consumer complaints were filed about the three companies at the New Jersey Division of Consumer Affairs, the New Jersey Board of Public Utilities and the Better Business Bureau, according to the attorney general's office.
The New Jersey Board of Public Utilities also teamed up with the state's Division of Consumer Affairs in May to launch a formal probe into energy suppliers' billing practices, with BPU Commissioner Dianne Solomon saying the office had seen complaints about energy suppliers increase tenfold in a year's time.
The plaintiffs are represented by Jonathan Minkove and Lawrence J. Friscia of Friscia & Associates LLC; Charles J. LaDuca, Michael J. Flannery and Beatrice Yakubu of Cuneo Gilber & LaDuca LLP; Seth R. Lesser and Fran L. Rudich of Klafter Olsen & Lesser LLP; and Steven L. Wittels and J. Burkett McInturff of Wittels Law PC.
Representation information for Ambit Energy was not immediately available.