Natura Cosmetics Gets A Sustainability Makeover
February 5, 2015
By Tina Williams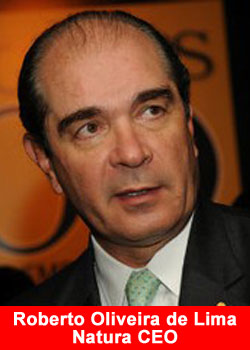 Natura Cosmeticos has long been considered a leader in sustainability, known for materials and marketing innovations that aim to reflect its tagline of well being/being well. The Brazilian cosmetics maker has been recognized by organizations such as Corporate Knights, the U.N. Environmental Program, SustainAbility and the Boston Consulting Group.
For instance, as a founding member of the Union for Bioethical Trade, Natura has promised to source ingredients sustainably without harming biodiversity, including getting one-third of its raw materials from the Amazon.
The company is currently working on Programa Amazonia, a plan to inaugurate its Ecoparque — a 1.7-million-square-meter closed-cycle industrial complex in the Amazon region — in March. The company hopes to eliminate waste and guarantee a clean destination for biproducts from Amazonian fruits, oils and berries that are used to produce its cosmetics. The plan also will involve the application of innovations from process and product research.
For example, we press the seeds from a certain palm tree or passion fruit and the rest is discarded, said Renata Puchala, manager of Natura's Amazonia Program. At the other end, after we process the seeds, there is natural waste that needs a proper destination to close the full cycle.
According to Puchala, Natura is in talks with other companies to form partnerships in the area. For example, Natura only uses an oil extracted from the small seeds of passion fruit. It hopes the juice industry can use the pulp, and that the seed husks and skins can be used as biomass to generate clean fuel.
Ecoparque itself will make room for complementary industries; Natura's own factory will occupy the complex only partially. The supplies will come from traditional communities in the Amazon, and although the company didn't say how much it invested in the project, it already has hired 440 people, 90 percent from local communities.
Then there's the Amazon economy's contribution to Brazil's Gross Domestic Product. The deforestation economy in the Amazon, which includes agribusiness, contributes to around 23 percent of Brazil's GDP. The standing forest economy, made up of the extraction of wood, fruits and other biodiversity products, accounts for less than 1 percent. In other words, it is still much easier to make money felling trees to sell wood, plant soy or raise cattle than it is to keep the trees standing and sell the products made from them.
Natura has been trying to change this. By 2020, it seeks to nearly triple the number of communities it works with in the Amazon, from the current 3,500 to 10,000 families. The result would be an increase from 10 percent to 30 percent in raw materials obtained from the region. To do this, in 2012, the company sponsored the creation of a research network in the Amazon area called Nina, aimed at financing research into new products and business opportunities using local and traditional knowledge. About $2.5 million is being invested into researching 18 projects already selected from the network.
Tackling problems
Natura has slumped from 2nd to 23rd in the 2014 Corporate Knights global ranking of the 100 most sustainable companies in the world. The company says its fall is due to an increase in energy consumption and solid waste generation, as well as a lack of information about top executive pay. Through a variety of measures, particularly in the Amazon, it hopes to return to the elevated position it once enjoyed. While the company didn't address executive pay, it did lay out a plan moving forward that companies can learn from as they seek to improve their own sustainability efforts and ratings.
The drop in Natura's ranking has much to do with the teething problems of a maturing multinational with sales reaching $2.5 billion in the first nine months of 2013 in seven countries (just under the revenue for the whole of 2012), as well as complex product and raw materials transport systems and post-consumption waste.
Natura's most recent sustainability report of 2012, which indicated strong sales growth, already indicated some problems. For example, solid waste rose to 25 grams per unit sold from 20 grams in 2011, not meeting target. The reduction of greenhouse gases to 33 percent below 2006 levels also was off target. The only target on track was water usage, which was kept at 0.4 liters per kg of product, close to the 2013 target of 0.39 liters per kg of products sold.
The company's growth has spurred GHG emissions in all sectors except where it has total control. Emissions from extraction and the transport of materials, product sales and use, and final disposal rose 17 percent, 20 percent and 15 percent, respectively. The exceptions were industrial processes, which fell 24 percent, and processes involving direct raw-material suppliers, which fell 9 percent. Overall emissions per kg of product sold fell from 3.3 kg to 3 kg.
Natura's top executives have been in meetings for the past few months to discuss deep changes in the organization in order to respond to these challenges.
The company already has decided to keep a stiff rudder on certain issues. The idea of mobilizing local communities and promoting fair trade is now a deeply rooted idea. The company is also maintaining its focus on using natural products and promoting well-being in the international communities it serves.
Looking ahead
The way Natura deals with sustainability and innovation is revealing. The company has established a sustainability department whenever it's needed to speed up or seek new solutions, Puchala said.
The company needs to ensure that innovations are incorporated in the production process in an organized manner, she said. Efforts are divided into distinct categories: waste, water, socio-biodiversity, education for sustainability, quality relationships, entrepreneurship and climatic change. For each of these areas, the company has specific targets and solutions.

When a new process is developed and tested, it can be incorporated into the company's normal operations, which results in not needing a separate section for it, she said. This is what will happen with socio-biodiversity. But with waste and water, for example, we still have a lot to do.