Reginald Stinson Joins Total Life Changes
April 28, 2015
By Nicole Dunkley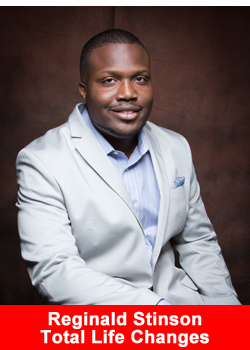 Reginald Stinson has been a recognizable name in MLM for the past five years. He's earned the title of the #1 Internet Marketer for 2014 and now looks to dominate the field with his recent decision to join Total Life Changes.
A TLC customer of over three years is now a new Independent Business Owner. Reginald is a husband and father of three children residing in Nashville, Tennessee.
"I'm actually looking to relocate in the next few months to Atlanta, Georgia. I see a lot of opportunity for me with TLC and Atlanta is on fire right now. I decided to partner with TLC after being a customer for over three years.I've experienced firsthand how well the products work. I recently spoke with Executive Ambassador, Lenika Scott about the opportunity and the growth that has taken place in the past year and a half, so it just made sense to sign up as an IBO. These products get people results and this compensation plan is one that will help a lot of people earn additional income. TLC is positioned in a niche health and wellness market, which has created more millionaires than any other niche in network marketing," explains Reginald Stinson.
Reginald Stinson made a substantial income in his previous business; up to $700,000 a year and he was also awarded as a top income earner, receiving a brand new Camaro as part of that recognition.
He joined Total Life Changes just over a month ago. Reginald intends on reaching the rank of National Director in his first 60 days and the highest rank of Executive Ambassador in his first six months. These are lofty goals, but his track record speaks for itself in the MLM industry.
Total Life Changes is recruiting thousands of new affiliates week after week, averaging over 4,000 new IBO's for the past three months. The number of customers continues to increase weekly as well.
The end result is a movement across the United States and abroad that is impacting people's lives. Total Life Changes is providing men and women with an opportunity to alleviate debt, offer their families greater opportunities and help others to do the same.
Reginald Stinson expects to help over 1,000 families replace their current income this year by building a network of over 100,000 members that would produce at least one hundred six-figure earners and about ten millionaires.
"We are really excited to be attracting this level of established network marketers. People always talk about timing in this industry. Many companies market themselves heavily that way. Like saying, the time is now to join us. We have not had to really market that exclusively. It's just happening naturally or organically as a result of everything that has been put into place over the past ten years. I'm excited that Reginald has decided to join TLC. I know he is going to be an aggressive marketer and I have no doubt he will reach these goals that he has set for himself," explains TLC's founder and CEO, Jack Fallon.
Total Life Changes offers an amazing line of health and beauty products along with a great business opportunity. TLC was created by CEO Jack Fallon 15 years ago with a single product, Nutraburst, and has grown to include our Iaso™ brand of products like our popular Iaso™ Tea. Our hybrid binary system allows IBO's of TLC to quickly be compensated for introducing new reps to our products and business opportunity. The opportunity for you to feel healthier and flourish financially is what TLC is all about! Join us in Atlanta this July to see it for yourself.