27,000 People To Attend Mary Kay Convention In Dallas
July 17, 2015
By Tina Williams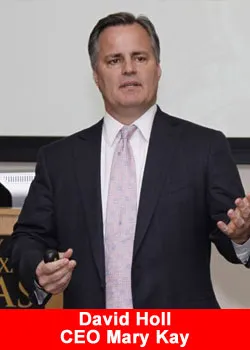 Barbara Overton has sold Mary Kay beauty products for less than five years, but she said she wouldn't leave the gig for any other job.
Overton comes from a small town in North Carolina, where "everybody knows everybody and everybody is related." Despite the community's size, Overton said she feels she is making a difference in people's lives when she exposes them to Mary Kay products.
"If you get somebody with low self esteem and you show them how to use these products, you can start a whole new chapter in their lives," she said.
Overton is one of the 27,000 attendees at the 41st annual Mary Kay convention, which kicked off with much fanfare — and a whole lot of pink — Thursday in Dallas. This year's seminar will bring in a projected $30 million to the local economy.
The convention is one of the biggest events in Dallas this year in terms of number of attendees, number of hotel nights, and overall economic impact.
The purpose of the conference, which has been held at the convention center since 1974, is to bring together the Addison-based cosmetic company's self-employed contractors who sell Mary Kay products in their communities.
The cosmetic giant relies on its 3.5 million independent consultants worldwide to bring products directly to consumers. The company offers a series of benchmark rewards to its consultants, including the trademark pink Cadillac given to high-performers.
Christine Jessee, an independent senior sales director from Southern California, drives one of these company cars. She has been with the company for 16 years, and two years ago her husband left his insurance job to work with her.
"It's a family business," Jessee said, adding that her three kids like to get involved sometimes, too.
Jessee and 20 of her team members came to Texas to brave the heat and learn how to grow their business even further.
The conference also included a celebration of the independent consultants who have earned millions of dollars in commissions by selling Mary Kay products.
Karen Piro is the company's top independent executive national sales director, worth over $13 million in commissions. She has been with the company since she was in her 20s and is set to retire in January.
"Mary Kay works if you do," Piro said at the conference.
The conference's programming includes classes on how to do just that, as well as product previews, an awards show, and guest performances from singer-songwriter Jordin Sparks, among others. The four-day event will be repeated in five waves over the next few weeks to accommodate all attendees.
At the conference, the company highlighted its philanthropic aims: finding cures for cancer affecting women and ending domestic violence.
Dallas designer Abi Ferrin tells her own story as a part of the company's domestic violence awareness push. The Mary Kay campaign, "Don't Look Away," includes a texting help line and public service announcements for women and men. The company sponsors an around-the-clock texting helpline for victims of domestic violence.
"When I was a victim, there wasn't anything like that service," Ferrin said. "I didn't have anyone to turn to. I just thought I was crazy."
The company is already looking toward next year's convention, according to Laura Beitler, vice president of recognition and events for Mary Kay. She said 1.2 million women have attended the conferences over the past 40 years.
"For us and for the sales force, this is the greatest time of year," Beitler said. "It's the only time of year where we can bring everyone together."
Reported by Dallas News