Youngevity International Adds Scott Salik As VP Of Global Content
January 12, 2016
By Nicole Dunkley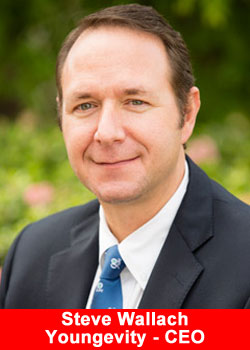 Youngevity International, Inc., a global direct marketer of nutritional and lifestyle products and also a vertically-integrated producer of gourmet coffees for the commercial, retail and direct sales channels, announced today that Scott Salik has been added to its executive team in the position of VP of Global Content.
Mr. Salik is an award-winning media executive with a track record for producing effective branded multi-language, multi-country content and live events from concept to completion.
Dave Briskie, President and CFO of Youngevity, said, We are so fortunate to add Scott Salik to our executive team. His track record for integrating state-of-the art technical and creative innovations to maximize content value, enhance user engagement and grow brands is unmatched in our industry. He has already impacted our business with the launch of the Youngevity Virtual Meeting Platform this past weekend.
I am enthusiastic to join Youngevity and bring my expertise to one of the most progressive and innovative companies in the social selling space. I am impressed with their commitment to embrace technology and proud to help accelerate their trailblazing vision, said Scott Salik.
This weekend we deployed a scalable, multi-platform training experience that includes access via OTT and mobile. The initial tests of this platform went very well as we experienced increased audience retention by an average of 71% with the content being viewed in 25 different countries. Our distributors reported that they were more likely to use company created media with the new platform. We now can quickly create and globally deploy training, marketing and messaging content in multiple languages simultaneously.
Mr. Salik is a member of Producer's Guild of America and Academy of Television Arts and Sciences. His 30 year career includes feature films, work for all the major television networks, producing niche cable programming and creating marketing content for many of the great American brands. He served as VP of Programming and Network Development for Beachbody as part of the Team Beachbody launch team and most recently as VP of Video with Visalus.
About Youngevity International Inc.
Youngevity International Inc., is a fast-growing, innovative, multi-dimensional company that offers a wide range of consumer products and services, primarily through person-to-person selling relationships that comprise a network of networks. The Company also is a vertically-integrated producer of the finest coffees for the commercial, retail and direct sales channels. The Company was formed after the merger of Youngevity Essential Life Sciences and Javalution Coffee Company in the summer of 2011. The company was formerly known as AL International, Inc. and changed its name to Youngevity International Inc. in July 2013.