Chris Atkinson – Ambit Energy Top Earner Inspiring Story
February 8, 2016
By Team Business For Home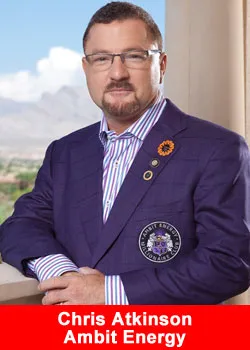 Chris Atkinson, is one of the Top Income earners in Ambit Energy and he send us the next inspiring story:
My name is Chris Atkinson, I am a National Consultant with Ambit Energy and blessed to be the #5 income earner, over the years I have learned so many wonderful lessons, grabbed ahold of many great thoughts, golden nuggets, words of inspiration and yet for me it started with a simple task.
You see over 9 years ago when a friend, Steve Thompson, called me about joining Ambit I was 38 years old, broke and living with my parents, but I believed in Steve so I knew I had to look. Instantly I wanted to join but obviously could not do so. Steve in his own way helped me realize that I needed to join, so I began to ask others to lend me the investment and I got started the very next day.
Now I have a bit of a checkered background, Jails, Institutions over and over again all related to alcohol and drug use (Sobriety date 7/28/01, thank you God). But my background had made it where I was not seeing my son on a regular basis, I missed the younger years, the growing years. But it was all for a reason, and now he has become my best and closest friend.
I joined on October 13th 2006, my son was 15 years old and playing on multiple soccer teams. The problem was he had no soccer ball of his own, he could not practice at home. So October 13th was a Friday and I challenged myself to get a check that First week so I could finally purchase him a soccer ball.
On October 20th I picked him up from school and he had to open the car door and pick up the soccer ball so he could sit down. Tears began to flow and for me it was my first experience of having that Dad Moment. We kicked that soccer ball all afternoon, all night and all weekend. Today it is torn and tattered but he still has it. On the suggestion of a friend I bought him a Trophy case for it this Christmas and replaced with a new ball as well.
Sometimes in our trainings I tell this story, and last October was no different, except it caught the attention of one individual, EC Pat Flander from Upstate New York. Pat began to visit Walmart stores and would purchase a soccer ball, and immediately drop it into the Toys for Tots box in the store.
Pat began to post this on social media, talk about it on conference calls and well, it simply took off and became something special. People began to follow and do the same. We would see posts from individuals at Walmarts, in business presentations just dropping them into the Toys for Tots boxes. Two separate Walmarts totally sold out of Soccer Balls and over 1000 were donated across the USA to toys for tots.
You see making a difference comes in many forms, this year I believe a difference was made because of a 15-year-old in 2006 that just wanted to improve and a Dad that was finally ready to be the change, and over time others decided to rally together, pull together and become that positive change onto others.
Our industry allows each of us the opportunity to help others, but sometimes and well I guess just not often enough do we all pull together to do the right thing for a right reason. Thank you everyone for being that positive change and for believing in People Helping People.
Can't wait to see what Christmas of 2016 will be like! – Chris Atkinson