Bart Van Den Hoogen & Hans Avink Win "Rain Maker Of The Year 2016" Award
December 31, 2016
By Team Business For Home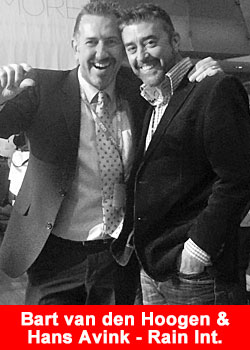 Recently Rain International, world leader in Seed Nutrition, held its first World Seed Summit in Las Vegas, Nevada (USA).
At the Recognition Gala Dinner that closed the event, C.E.O. Byron Belka announced that distributors Bart van den Hoogen & Hans Avink from the Netherlands were the winners of the prestigious Rain Maker of the Year 2016 Award for their work in the European market. Every year the reward goes to the partner or partnership that has shown exceptional effort, dedication and contribution towards the growth and success of the company.
Aaron Palmer, European Director of Rain International:
In less than 12 months they have taken a brand new market from zero volume to becoming the second largest market for Rain International in the world. The market was so young and undeveloped and what they achieved in these short 12 months is nothing short of amazing.
A lot of long nights, a lot of Skype conversations well into the early hours of the morning sometimes, to get events planned and taken care off. Never with any complaints; nothing but positivity and the vision of the future of what Rain can be.
The award they received came in the form of a full size surf board, a metaphor for freedom and active lifestyle, and one side contains a piece of art by a popular USA painter.
Bart van den Hoogen & Hans Avink can look back at 16 years of experience in the network marketing sector, always reaching the top level ranks in the companies they got involved with.
In September 2015 they decided to join Rain International because of the innovative category creating product line of seed nutrition, and because they feel it's the first network company which they consider as a company that really has a heart for making a difference in people's lives.
As one of the first distributors in the Netherlands they currently built an organization of 3,500 people and were the first distributors in the Netherlands to reach the top rank of Diamond Elite.
Bart & Hans were also the first Recommended Distributors worldwide for Rain International at Business For Home.
Rain International Team Netherlands
About Rain International
Rain International is the original creator of seed-based nutrition. Their experts have gone to the source of plant nutrition to formulate products proven to support healthy lives.
Rain International is more than the products they sell. From the beginning, they set out to make changes to improve the world around them starting with the health industry and moving beyond its borders into global sustainability, education initiatives, elevated lifestyles, and more. Rain International believes that the ultimate human experience we all crave is within everyone reach, and they don't mind leading the way. For more information please visit www.rainint.com