Tom Winckler A Rain Black Diamond Success Story
June 22, 2018
By Team Business For Home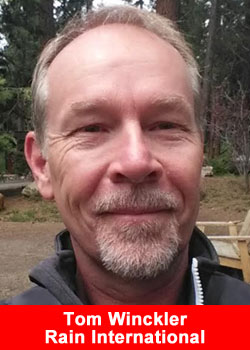 Tom Winckler is a man of no small reputation within the world of Network Marketing.
And, rightfully so: his years of experience within Network Marketing have been backed by huge success, not to mention his consistency as a team builder and power as a trainer.
This legacy has not only continued with his partnership at Rain International, but grown. And he doesnt seem to be slowing down.
After hitting Diamond in October of 2016 with Rain International, Tom has continued growing his team. In 2017, he hit Black Rain Diamond, an accomplishment achieved, in large part, because of his ability to train those in his downline (a handful of which have also hit Diamond). His team continues to grow in numbers, strength, and capacity.
Byron Belka, Founder and CEO of Rain International said,
A long time ago, I learned that to be successful, you need to surround yourself with successful people. I am thrilled to have an amazing leader like Tom Winckler join Rain.'
 Tom joined Rain International after meeting Byron Belka, and quickly recognized that the future of health was before him: something called seed-based nutrition.
It is an all-natural, vegan, nutrition, that is sourced from the creator of nature: seeds. It has completely created a brand new category in the health world, and disrupting the way health is consumed.
With this nutrition, and the products Rain has created from seed-based ingredients, Tom has been able to build up massive teams, push millions of dollars worth of product, and has changed the lives of many people around him, including his own.
Rains products continue to impress a world that needs them desperately, and Tom Winckler continues to impress the Network Marketing world by continuing transcend his reputation and build upon his legacy.
About Rain International
Rain International is the original creator of seed-based nutrition. Our experts have gone to the source of plant nutrition to formulate products proven to support healthy lives.
Rain International is more than the products we sell. From the beginning, we set out to make changes to improve the world around us starting with the health industry and moving beyond its borders into global sustainability, education initiatives, elevated lifestyles, and more. We believe that the ultimate human experience we all crave is within everyones reach, and we dont mind leading the way. For more info please visit www.rainintl.com