The Social Proof Principle: Does Attending Events Matter?
November 9, 2018
By Team Business For Home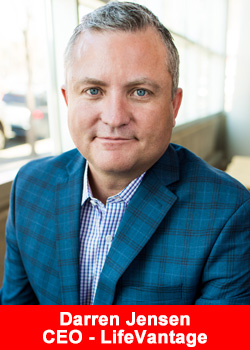 Darren Jensen, CEO LifeVantage, who recently has been awarded with the Business For Home Turn Around Award 2018 has written an excellent article named: The Social Proof Principle: Does Attending Events Matter? 
Success starts with questioning everything, even our questions. This article is part of a series by LifeVantage CEO Darren Jensen that touches on a set of principles brought about by asking questions that have challenged the industry status quo.
An important fact in this article:
We also found that event attendees were 2,241% more likely to enroll somebody than their non-event-attending counterparts, were 558% more likely to rank advance if they attended at least one major event during the year, and earned, on average, 119% more.
Darren:
We recently hosted and wrapped up another successful Global Convention as a company in Salt Lake City, Utah. If you haven't been to Utah during the autumn season, you should try it sometime. It's stunning. The event drew nearly 5,000 people from 10 different countries around the globe.
While, as a corporation, we call the greater Salt Lake area home, many went to great lengths to join us, not only geographically – some traveled as many as 10,000 miles – but otherwise. Some braved physical limitations and health conditions that make traveling difficult. Others put aside work and family obligations to be there. Some came at great financial cost to them and their families. I even heard one story of a distributor in Australia who sold items around the house in order to raise enough money for airfare.
As I so often am, I was moved by the obvious sacrifices made to be in attendance, begging the question whether the sacrifice is worth it.
The Thing About Events
From small, local leadership events to big global conventions, there are countless opportunities to attend events in our industry – and countless places to host them. Like a lot of companies, we take the show on the road more often than not. Some events are educational, others inspirational, and others are just down-right fun. The rare event combines all of the above.
Seasoned industry veterans understand the power behind events. We keep on coming back because we derive value from them. We continue to invest personal money to attend them because, either we enjoy the experience, or it helps our businesses in some tangible way.
But events are expensive, both to attend and run. Companies spend hundreds of thousands, if not millions of dollars to host them. Sometimes they're difficult to attend, and distributors often have to take time off their 9-to-5 jobs to go.
Let's face it, events are fun. But they're also hard. But are they worth it for both organizations and their distributors? The answer, in short, is yes. Here's why.
The Tribe Factor
In his book Tribe: On Homecoming and Belonging, Sebastian Junger draws a parallel between communities and humanity. In order to feel truly fulfilled, humans don't need a lot: enough food to eat, a roof over their heads, and a sense of belonging through community.
We are tribally hardwired. We long for human connection. More importantly, we long to do hard things in service of our communities. But unfortunately, the increasingly digital, disconnected world we live in has made this sense of connection harder and harder to come by. According to Junger, "Humans don't mind hardship, in fact they thrive on it; what they mind is not feeling necessary. Modern society has perfected the art of making people not feel necessary."
Events remind distributors that they are necessary, while helping them feel connected to a larger purpose.
Whatever they learn over the course of any event is always secondary to the empowered sense of belonging.
Events by the Numbers
That sense of connection and belonging also pays dividends in a real way. After returning home from an event several months back, I started asking myself if there was a quantifiable benefit to attending events. Here's what I found.
At LifeVantage, distributors who didn't attend events, on average, only ordered two months out of the year. If they attended one or more events, they ordered eight months out of the year. Additionally, those who attended a major event generally placed almost 291% more orders than those who didn't.
We also found that event attendees were 2,241% more likely to enroll somebody than their non-event-attending counterparts, were 558% more likely to rank advance if they attended at least one major event during the year, and earned, on average, 119% more.
We call it the Social Proof Principle, and the correlative proof is in the pudding.
Good for Business. Good for the Soul
Obviously, events are good for business. But why?
Our industry is unique. Our distributors lead their businesses from their hearts. Selling is personal. It always has been, and it always will be. For these people, the chance to convene, learn, and plan their future with others who share the same values and passions is priceless. Events dish out key learnings and takeaways. But they also serve up the interconnectedness that reminds distributors why they got into this business in the first place.
As leaders, we take events for granted without realizing that events themselves might be largely responsible for our success in the industry. It's easy to focus on the miles logged, airline food eaten, or jet lag and lack of sleep.
It's also far too easy to focus on the bottom-line cost of traveling to and hosting these events. But we need to step back and take a look at the bigger picture.
Our distributors and their organizations benefit both financially and spiritually from attending them.
It's not easy. It never will be. But I think that's why events work so well.
About Darren Jensen
Darren Jensen is the CEO and President of LifeVantage (LFVN), one of the world's preeminent publicly-traded biohacking companies. A biohacker in his own right, Darren is an emerging authority and thought leader in the biohackersphere and field of nutrigenomics.
With nearly 30 years of experience in the direct selling industry, Darren has co-founded two DSN Global 100 companies and has served in a variety of leadership capacities over the arc of his career for multiple privately and publicly-held companies in the industry. He has been named to the Ambassador of Network Marketing Hall of Fame and has repeatedly been voted one of the top CEOs in the direct selling industry. Darren is a member of the CEO Council for the World Federation of Direct Selling Associations and also serves on the Direct Selling Association Board of Directors. He has lectured and given presentations across the globe on a gamut of issues impacting the industry.
Never one to shy away from rolling up his sleeves and getting his hands dirty, Darren also served as a volunteer firefighter in his hometown in the wake of 9/11. He has also served in a variety of roles for the Boy Scout of America. He holds a bachelor's degree in International Relations from Brigham Young University with a focus on international business development. Ever a family man, he and his wife, Carolee, are the proud parents of 5 children and impending grandparents of 1.