Casmire Okafor From Nigeria Achieves Sapphire Elite Rank With Rain International
April 15, 2019
By Team Business For Home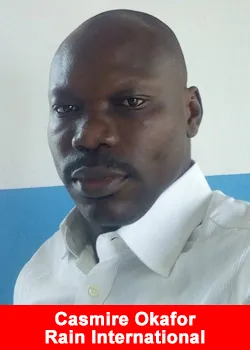 About a month ago we reported on Casmire Okafor when he achieved the prestigious rank of Pearl Elite in Rain International. Now he is making news headlines yet again – having achieved the rank of Sapphire Elite – the highest rank for Rain International in Nigeria.
Casmire Okafor is a network marketing leader who believes that by helping others to be successful, he will be successful. While his humble beginnings prove that anyone can be successful in MLM if they have the right mentorship and motivation, his current success – and that of his team members – speaks for itself.
On the one hand, Casmire's rise to success after coming from a single parent family, and being done in as a young man, is an inspiring story of courage and determination. From his current level of success, his humble beginnings must seem a lifetime away.
He has, however, built his business on the approach that he wants to help others to be successful – which is a testimony to his roots and his struggle to overcome adversity. On the other hand, his rise from the rank of Pearl Elite to the rank of Sapphire Elite in just one month speaks volumes.
Firstly, it is proof that network marketing, when done right, eventually snowballs and accelerates to the point where it delivers astonishing results. Once the person's network becomes big enough, the growth really becomes exponential. Secondly, it is a testimony to how Casmire treats and builds his team:
Most aspiring network marketers fail because they are incapable of replicating themselves. They are able to recruit others, but they find their recruits are incapable of reproducing their results.

As a result, they never see any serious growth in their networks, and even their personal recruits start dropping off.
Casmire, on the other hand, has invested a lot of time into ensuring that his recruits know how to recruit others, and that they have the necessary knowledge and tools at their disposal. As such, his network not only has the numbers, but it also has the necessary depth to keep on replicating from one level to the next.
This much becomes obvious when we look at the incredibly short time frame it took him to rise from the rank of Pearl Elite to the rank of Sapphire Elite in Rain International. The only reason it as possible is because there are many, many people in his Rain International distributor network that are able to replicate themselves, and thus ensure exponential growth.
It also proves that Casmire, unlike many other network marketers, doesn't simply assume that every new recruit is ready to "go out and do business". Most people who join a network marketing opportunity have no idea what they are getting into, and are not properly prepared to replicate themselves as distributors.
Casmire, however, have come to know that his personal success directly depends upon the success of the people his downline. As he rose through the ranks, many people in his downline rose along with him; many rising to prestigious ranks and earning substantial incomes. As such, he went out of his way to help as many of them as possible to become successful. This in turn resulted in exponential growth, which has now led to vastly accelerated achievements, following one another in close succession.
About Rain International
Rain International is the original creator of seed-based nutrition. Our experts have gone to the source of plant nutrition to formulate products proven to support healthy lives.
Rain International is more than the products we sell. From the beginning, we set out to make changes to improve the world around us starting with the health industry and moving beyond its borders into global sustainability, education initiatives, elevated lifestyles, and more.
We believe that the ultimate human experience we all crave is within everyone's reach, and we don't mind leading the way.
For more info please visit www.rainintl.com.