ibüümerang Announces Incentive Trips As Over 500 Reps Gather In Mexico's Riviera Maya
May 27, 2019
By Team Business For Home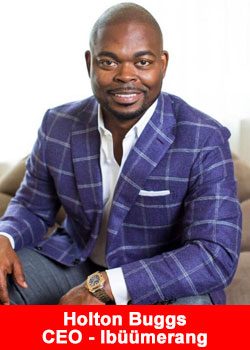 ibüümerang continues to send shock waves throughout the network marketing industry. Founded by its Chairman and CEO Holton Buggs, the company is barely 60 days old.
Within those two short months, ibüümerang has established a philosophy of financial freedom and empowerment that encourages dreaming big, getting out of debt, living passionately and giving back to those in need.
More than 500 ibüümerang Travel Savings Ambassadors (TSA's) traveled together to one of the most beautiful beach locations in the world. Situated just south of Cancun sits the Riviera Maya, long considered an iconic destination for both Mayan history buffs and sun worshippers.
The magnificent tropical oasis known as the El Dorado Royale and Casitas played host, and from the opening Beachside Reception and Cocktail Party to the closing Farewell Gala and Dinner, it was a dream experience for all who attended.
Holton Buggs wanted to be clear from the very beginning, saying,
"Travel isn't just something we talk about. It's not something we just dream about. It's what we DO! And this is only the beginning. What's coming in just a few short months will be more impactful than anything we have done to date!"
Indeed, the announcements that followed from the ibüümerang CEO had an immediate effect on those in attendance. Amidst the glorious luxury and wind-blown palm trees, Mr. Buggs also shared the upcoming incentive trips with all those present.
ibüümerang TSA's who qualify as Sapphire between May and December will be invited to a luxury retreat. For those who rank as Sapphires in North America and South America, the destination will be Costa Rica; for the Sapphires in Europe, Asia, Australia and Africa, the luxury retreat destination will be Morocco. ibüümerang expects approximately 1,000 TSA's to qualify as Sapphire.
Committed to making the ibüümerang Diamond lifestyle the #1 Lifestyle in the world, Mr. Buggs announced a Diamond Retreat. Few destinations around the globe have the mystique, luxury and aura as Dubai, and when the name of the city was announced, the entire audience was floored. Immediately, the #DiamondsinDubai campaign went viral throughout the company.
This year, Buggs expects around 70 TSA's to qualify as Diamond and looks forward to gathering together for an unforgettable experience of a lifetime in Dubai.
About ibüümerang
Launched in March 2019, ibüümerang is fast becoming a global leader in the travel and direct selling space. The mission of ibüümerang is simple: deliver good will in the form of travel savings and reward our Travel Savings Ambassadors (TSAs) with travel savings bonuses in cash. The vision is to create a consumer centric model focusing on an exceptional customer journey and experience.
By creating a worldwide movement of TSAs, we will empower people from all around the globe to live life to the fullest, earn residual income via the PRIB™ (Perpetual Residual Income Builder) and leave a legacy to future generations.
For more information on ibüümerang, its Chairman and CEO Holton Buggs, its top tier executive team and its revolutionary travel program, please visit the company website at www.ibuumerang.com.