Hilde And Ørjan Saele Achieve 1 Star Global President At Zinzino
October 3, 2019
By Team Business For Home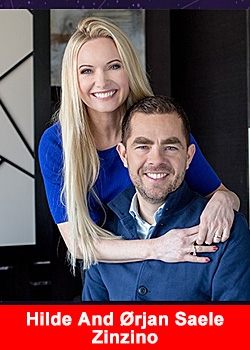 Zinzino founders and power couple Hilde and Ørjan Saele have had a fantastic growth in their team, every year one step closer to their first big target of reaching 1 million customers.
You´ll find it hard to meet anyone more inspiring, focused, determined, dedicated, energetic, caring and loving than these two brilliant leaders.
Zinzino expanded recently to Australia and is reporting big growth:
5 new Directors who have also qualified for the free director trip in 2020 to Lopesan Baobab Resort on the sunny island of Gran Canaria, Spain.
 3 new Diamonds
5 Platinum
10 Executives
10 Gold and
23 Silver
This last month has been a record month for the company as a whole with an incredible amount of new ranks being produced and topping it off with a new Presidents couple, Peter and Pernille Sørensen that not just reached President, but Elite President within the same month.
Hilde Saele stated:
"I am honored to work with so many dedicated, focused and passionate people that truly believe in our vision of Inspiring Change in Life and bringing health and wealth to our customers, family and friends. Both within the field and from the corporate side.

The greatest accomplishment for us today is not that we reached another rank, it is that together we had a record sales month and passed over 200,000 customers!"
Their vision and wisdom have brought them far on this incredible journey that started back in 2005, but still they feel they have just gotten started and the best is yet to come.
This says a lot about their attitude towards this business and what they stand for; to reach out to millions of people and give them the opportunity to make their dreams a reality.
Ørjan Saele stated:
"The goals ahead are crystal clear. 1 million customers in balance by 2025, by 2035 we are aiming for 20 million and by 2050 the big hairy goal is to help 100 million people in balance.
Every story count. Every person makes a difference. We are immensely grateful for every person in Zinzino. We are so thankful for all effort and work that are put in and we promise to do everything in our power to help each of you accomplish your goals and dreams"
ABOUT ZINZINO
Headquartered in Gothenburg, Sweden, Zinzino is a direct-sales health and wellness company, focusing on long-term prosperity through its signature Balance Oil range and skincare products. The company also owns Bioactie Foods.
Zinzino operates throughout Europe, North America and, as of next month, Australia. Zinzino have over 120 employees worldwide, with offices in Sweden, Latvia, Norway, USA and Australia. For more information please visit www.zinzino.com