Touchstone Essentials Sets Its Sights On Impacting The Lives Of One Million Families
November 1, 2019
By Team Business For Home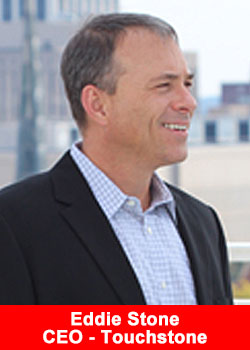 When Eddie Stone founded Touchstone Essentials in 2012, it was with families in mind.
Realizing that the problems of Big Food—pesticides, ultra-processed ingredients and toxic additives—were also found in most nutritional supplements, he set out on a different path.
"I knew that nutritional supplements needed to change from the status quo. Your family, my family, all families deserve better that what you find on most store shelves,"
said CEO and Founder Eddie Stone.
"We didn't start out thinking of ourselves as rebels. But it turns out that demanding organic, clean, natural ingredients for supplements is a revolutionary act."
Guided by the principles of clean ingredients, organic practices and sustainability, Touchstone Essentials has succeeded in creating a collection of superfood-based products that empower people to thrive. A steadfast commitment to quality has resulted in thousands of five-star ratings, a dedicated fan base, and the expansion of distribution to over 60 countries.
Now Touchstone Essentials is ready to take their global direct sales reach to the next level as Eddie Stone recently shared his bold plan for a clean supplement revolution, touching the lives of one million families around the globe.
"We know that when we fuel our bodies with the right ingredients, we fuel our potential. Ideas sprout. Possibilities grow. Happiness takes hold. And the timing could not be better as Touchstone Essentials is positioned within multiple growth sectors,"
explained Stone.
Market analysis by the Brightfield Group projects that the hemp industry will rapidly grow to $22 billion by 2022, an industry that Touchstone Essentials is already making significant progress in thanks to its popular CBD-rich hemp oil line. Additionally, the demand for organic continues to rise, with US organic sales in 2018 hitting an all-time high of $52.5 billion, a trend that is set to continue with the millennial generation driving future growth.
With revolutionary clean supplements, an advanced digital marketing system, and an innovative "Give Goodness, Get Goodness" Gift Card Program, Eddie is enthusiastic about how many lives can be changed for the better with Touchstone Essentials. Stone explained,
"We have set our sights on impacting the lives of one million families, whether that is through people experiencing the benefits of the products, or through people achieving improved financial health with our income opportunity. This is an exciting time for Touchstone Essentials, and I'm proud of our Visionary Business Owners, who are our partners in making a profound impact worldwide."
About Touchstone Essentials
Touchstone Essentials was founded in 2012 by 30-year industry veteran, Eddie Stone, with a vision of organic goodness accessible to everyone. They ship to over 60 countries around the world. Touchstone Essentials has been experiencing double-digit growth over the past 3 years and with the recent launch in August 2018 of the organic CBD hemp oil line, things have started reaching critical mass.
They describe themselves as proud rebels with a cause, offering products for Daily Detox, Organic Superfoods, and CBD. When you join as a VBO, you become a visionary business owner.
As a VBO, you're the CEO of your own empire, but you're not alone. Touchstone Essentials offers an advanced digital marketing system with a trove of resources, all at no additional cost. This includes a TheGoodInside.com e-commerce site, blog, and e-newsletters, social media retargeting and more. For more information please visit www.thegoodinside.com