Industry Leader Lawrence Villegas Joins Touchstone Essentials
December 14, 2019
By Team Business For Home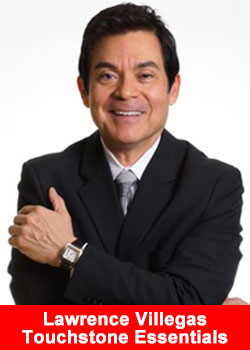 Lawrence Villegas comes from a family of entrepreneurs. Both his mother and father were business owners, so creating his own way came naturally.
"My parents put it into my head that you'll never get ahead working for someone else," says Lawrence. "You can be successful, but it will always be on someone else's terms."
Nutrition was also something that was a lifelong passion. As far back as age 12, he thrived on plant-based foods and supplements. He even had his own space in the refrigerator for his special food.
"Growing up I was interested in two things, music and nutrition. I majored in both in college. I used to play shows everywhere, but that's a hard life. I thought I could make a living in nutrition, but back then, the only jobs were in hospitals. I wanted to be on the prevention side."
His first introduction to network marketing was as a customer. At that time, he realized you could only get good nutritional supplements from direct sellers. He purchased his vitamins from a friend, and once his friend told him about buying wholesale, he was in.
"I went to my first meeting and it just clicked. We were going to create an organization of volunteers and mentor them and get a small percentage of their efforts. The more we helped them the more we helped ourselves, which made total sense to me."
Lawrence's love of entrepreneurship and nutrition fused into a five-figure monthly income, which not only afforded him the freedom to continue his passion for performing, but it allowed him to do it on his own terms. He went on to become a master distributor in the industry with a focus on zeolite products, which led to his learning about Touchstone Essentials' CEO and Founder, Eddie Stone.
"When you're looking at a business, interview whoever is running the ship if you can. I interviewed with Eddie, and he pushed all the right buttons. I was working with a synthetic zeolite, and I didn't know there was a better, organic one until I met him.

The PubMed studies, the quality control, these were selling tools I'd never had before. Then he said the one thing that resonated with me most. He said, 'I want to make things better by making better things.'"
After Lawrence's decades of experience with network marketing, plant-based nutrition and zeolite, Touchstone Essentials was the culmination of everything he was looking for in a company. He wanted a company that had a superior product, rigorous quality control, proven longevity and a sustainable business model that rewards you for doing the right things—like getting new customers.
"The comp plan is brilliant. It's the best in the industry. When you base your business on a real product with real customers, you have something truly sustainable. Recruiters jump ship at every new opportunity, but when a customer finds a product they love, they're not going anywhere."
Lawrence's Touchstone Essentials business is already booming. He's been solely focused on building a zeolite customer base in order to create a lasting, leveraged income, and says he's been blown away by how quickly he's been able to grow.
"I kept thinking it was too good to be true, but Eddie Stone is the real deal. The impact he wants to make in both the nutrition and network marketing industries is significant. I love this company. It's my destiny. Everything I've done over the years has led me to where I'm supposed to be and it's a beautiful thing." 
About Touchstone Essentials
Touchstone Essentials was founded in 2012 by 30-year industry veteran, Eddie Stone, with a vision of organic goodness accessible to everyone. They ship to over 60 countries around the world. Touchstone Essentials has been experiencing double-digit growth over the past 3 years and with the recent launch in August 2018 of the organic CBD hemp oil line, things have started reaching critical mass.
They describe themselves as proud rebels with a cause, offering products for Daily Detox, Organic Superfoods, and CBD. When you join as a VBO, you become a visionary business owner. As a VBO, you're the CEO of your own empire, but you're not alone. Touchstone Essentials offers an advanced digital marketing system with a trove of resources, all at no additional cost. This includes a TheGoodInside.com e-commerce site, blog, and e-newsletters, social media retargeting and more. For more information please visit www.thegoodinside.com