Michael Epstein Advances To Elite Pro 8 With LifeVantage
December 11, 2019
By Team Business For Home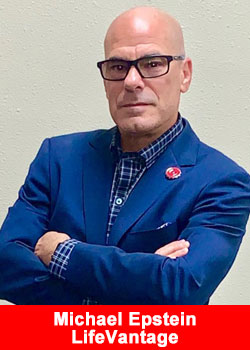 LifeVantage (Nasdaq:LFVN) has announced that Michael Epstein has advanced to the rank of Elite Pro 8 within the company.
"Michael continues to exceed our highest expectations," LifeVantage CEO Darren Jensen said. "And he's shown no signs of slowing down since he joined.

He's proven time and time again just how great of a leader and motivator he is. We're lucky to have him as a member of the LifeVantage family."
An industry veteran of 25 years, Epstein joined LifeVantage nearly a decade ago.
For Epstein, that moment came as his career prospects and income were both dwindling. A professional massage therapist who once counted world-famous celebrities among his clientele – including Ronald and Nancy Reagan – found himself suffering from new insurance structures and, subsequently, doctors who could no longer afford his services.
"I had a truck. It was the very first 4-wheel drive made by Toyota. There were just over a thousand of them made, and I owned one," Epstein recalled. "I loved it.

And I had promised my nephew he could have it. But I was in such dire straits that I couldn't even afford to pay rent, so I had to sell it. Not being able to give that truck to my nephew broke my heart."
After having to sell his beloved guitars on Craigslist one after another and borrow money from friends, Epstein knew he had to make a change. He also knew that network marketing could offer him the time freedom he needed to build the business he wanted. At that moment a friend encouraged Epstein to watch an ABC report on Protandim® Nrf2 SynergizerTM. And that was all he needed.
"Convincing my wife was another story," Epstein said. "I joined LifeVantage when she was out of town. Two days later, I already had enrolled five salespeople. I earned a commission check for my sales that I took to the airport with me when I picked her up. She didn't want anything to do with network marketing.
But I showed her the check, told her about the product, and she looked me in the eye and said, 'when can I start taking it?'"
Today, Epstein lives in Mission Viejo California, just down the road from his hometown outside of Los Angeles. He still studies martial arts and holds a fourth degree blackbelt in traditional Chinese Kung Fu. He continues to study herbs and holistic medicine. But now his life has changed. At the age of 61 he's a first-time father to a little boy, Matteo.
And Epstein and his wife, Paloma, are expecting another child, who they plan to name Micah. He enjoys being able to stay at home to work his home-based business. Because he's built a successful sales business, he doesn't worry about finances like he used to or being able to provide for his family. And the guitars he once sold – those have been replaced. He credits these changes to the opportunity he discovered in 2010.
"I was so petrified to be a dad," Epstein said. "But LifeVantage gave me the tools and the reassurance that they have my back. And by focusing, working hard, and staying steadfast to my vision, it gave me the opportunity to find those people that want to build a sales team with me.

Because of that, I have the ability to create the lifestyle I want."
About LifeVantage
LifeVantage Corporation (Nasdaq: LFVN) is a pioneer in Nutrigenomics – a new science dedicated to biohacking the human aging code. The Company engages in the identification, research, development, and distribution of advanced nutrigenomic dietary supplements and skin and hair care products, including its scientifically-validated Protandim® product line, Omega+ and ProBio dietary supplements, its TrueScience® line of Nrf2-infused skin and hair care products, Petandim™ for Dogs, Axio® Smart Energy Drink mixes, and the PhysIQ™ Smart Weight Management System. LifeVantage was founded in 2003 and is headquartered in Salt Lake City, Utah. For more information, visit www.lifevantage.com.
*Distributor success depends on individual diligence, work effort, and market conditions. LifeVantage does not guarantee any income or rank success. For the company's Average Annual Earnings Disclosure by rank, visit lifevantage.com.
Recommended Distributors LifeVantage