QuiAri Appoints Sam Fuentes As General Operations Manager For Mexico, Latin America, and South America
December 9, 2019
By Team Business For Home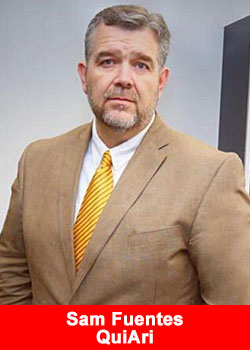 When Founder and CEO of QuiAri, Bob Reina, opened the doors for business on October 1st, 2019 the industry was already buzzing about the opportunity.
Now, two months later, product demand is still high and showing no signs of slowing. QuiAri Promoters located around the globe have been working around the clock to introduce QuiAri products to new markets.
To help facilitate their efforts in Mexico, Latin America, and South America, QuiAri has added MLM industry veteran, Sam Fuentes, as QuiAri's new General Operations Manager. With over 24 years of experience, Sam is the ideal person to help grow QuiAri's international business. From CEO to Chief Operations Officer to Country Manager, he has always held high level positions and delivered impressive results.
"I've been in the network marketing industry since 2001 and have helped large companies with everything from logistics to compliance to leadership.

I've even taught English classes to help improve communication between corporate and field leadership. When I learned about QuiAri, I saw an opportunity to help a company that's doing great things for to improve the health of people all over the world. I immediately wanted in,"
said Sam Fuentes, General Operations Manager of QuiAri.
Sam believes QuiAri has the potential to be a billion-dollar brand based on Latin American and South American sales alone. There are approximately 626 million people in Latin America and 422.5 million people in South America and poor health is on the rise in nearly all of the countries.
"The timing is right for QuiAri to expand in these markets. QuiAri and MaquiX™ have been helping people lose weight and get healthier just like it has in the U.S. Also, I'm excited to help more people access the QuiAri opportunity. In countries like Mexico the chance to earn an extra $500 USD instantly can change their lives, "
said Sam Fuentes.
Prior to joining QuiAri, Sam was an Independent Consultant in the Querétaro area of Mexico. While he enjoyed being self-employed, the opportunity to work for a young company with exclusive products and loyal Promoters and Customers was too good to pass up.
"I've been looking for a forever home for my career, and I've found it with QuiAri. I talked to Bob Reina and we just clicked. He's a passionate guy and sincerely wants to help people live healthier, longer lives. After 35 minutes on the phone and I said to myself, 'I want to work for this guy,'" 
About QuiAri
QuiAri provides life-changing opportunities that empower people to feel their best so they can live their best. Their breakthrough health and wellness products are made from an exclusive extract of the maqui berry, the world's new number 1 superfruit. Plus, QuiAri offers opportunities to receive Same Day Pay just by sharing their products with others. Try. Love. Share!
To learn more about QuiAri, or to get in touch with a Promoter, visit QuiAri.com.
These statements have not been evaluated by the Food and Drug Administration. These products are not intended to diagnose, treat, cure or prevent any disease.
Recommended Distributors QuiAri