Sharmeeka Brooks Achieves Regional Director Status As First-Timer In Direct Sales
December 23, 2019
By Nicole Dunkley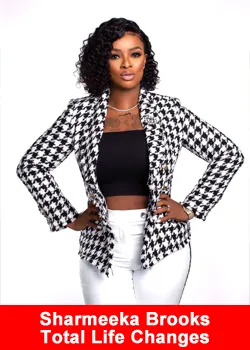 Sharmeeka Brooks says joining Total Life Changes was a no-brainer for her. She loved the products and culture immediately and says Executive Ambassador and former #1 voted Female Network Marketer Stormy Wellington was the one to introduce her to TLC, initially. 
Sharmeeka is originally from Philadelphia, PA and now lives in Miami, FL with her 4 children and husband. Stormy and Sharmeeka live in the same neighborhood, so she had the chance to try to Iaso® Tea Original detox tea and NutraBurst in August of 2019.
Then when Sharmeeka tried the Iaso® Tea Instant with Hemp Extract, she was sold. It helped her cope with her IBS symptoms and her skin condition:
"I had spent thousands of dollars on dermatologists and skincare, and when I tried the CBD Tea, my skin cleared up."
Sharmeeka lost 30 lbs. in 12 days while using the Iaso® Tea Instant with Hemp Extract, saying it was a life-changing product for her. She then formally joined Total Life Changes as a Life Changer in September of 2019. She emphasizes that Total Life Changes has great energy. Sharmeeka says the TLC culture and company is amazing, and anyone can be a part of it:
"TLC is for anyone in any country. In any lifestyle, even if you have a newborn as I do, it is for anyone regardless of how much they have on their plate."
Sharmeeka Brooks hit the rank of Regional Director on December 12, 2019. Sharmeeka says she loves TLC as a company and says she hasn't had any challenges starting her business.
She thanks her sponsor, Stormy Wellington, and says the key to their success with TLC is meeting in person at least twice a week, talking every day, and maintaining a positive mindset. 
Sharmeeka's short term goals for 2020 are to be a Global Director by March and earn $2,000,000 by the end of 2020. Her long-term goals are to enroll 300,000 people and help Total Life Changes grow worldwide, by helping to change lives and keep people healthy.
About Total Life Changes
Total Life Changes (TLC) is a direct selling company offering a diverse product portfolio of health and wellness products. Founder and Chief Executive Officer Jack Fallon created TLC 16 years ago with a single product: NutraBurst®.  Since that time, TLC has continued to develop weight loss and wellness products matched with an attractive hybrid binary compensation plan. This allows Life Changers of TLC to be rewarded quickly for introducing new customers to its products and business opportunity. Find out why so many are saying, 'It really is different over here.'
Recommended Distributors Total Life Changes