JIFU Is Growing Fast In The Travel Industry
January 21, 2020
By Team Business For Home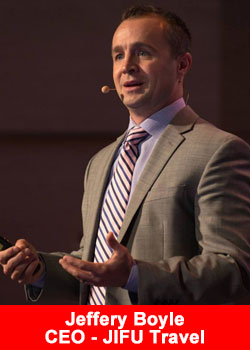 JIFU, a provider of wholesale and vacancy travel has helped thousands of affiliates and members across the world save big on travel and excursions in their first 9 months.
Bradley Boyle, President and Co-Founder, says,
"JIFU is the perfect opportunity for those entrepreneurs who are tired of pushing overpriced products and confusing services. JIFU is straight forward and shows you exactly the savings at the time of booking.

We started JIFU so our members will keep more money in their pockets and experience adventures they didn't think they could afford."
The JIFU Affiliate Pay Plan is unprecedented and was designed by CEO and Co- Founder, Jeffery Boyle.
"We designed it so that the people that are working, earn the money. We have seen companies attempt to copy us in our short time in business. However, unlike JIFU, with other companies we see too much of the revenue that the field has created go back to the company.

We feel that those who are passionately working the retail system should earn the money. That is why on a retail sale, which in our system is called a "Buddy Pass," the money saved on travel goes 50% to the Buddy Pass recipient and 50% to the JIFU Affiliate or Member.

None of the revenue for the trael goes to the company. All too often, this industry finds sneaky ways to take from the bottom and give to the top. That is not the JIFU way!".
See how the JIFU Buddy Pass works here -> Whats a Buddy Pass
Although the JIFU Affiliate Pay Plan is unprecedented with it's payout, (yes, we challenge any company to compare) the travel savings are what make the opportunity so valuable to motivated entrepreneurs. If the customer is happy, it is easier get and keep customers. This is the power of JIFU and is why it is growing so fast.
 Taisha B. a JIFU customer commented, I saved $10,000 !
"I travel about 75% of the year, maybe a little more. My travel includes not only work travel but a significant amount of personal travel as well. I've always been a loyal customer to big brands like Bonvoy Marriott and Hertz to build points and status because it made sense with the amount of travel I do however I was getting to a point where I would pay whatever the price was just to build points.
JIFU has truly changed the way I travel. I joined right away because I had Sasha check the price of the hotel I was staying at last January and it was about 60% cheaper than what I had paid for at a conference rate. Without thinking much about it after that, I joined".
Since then, I've been able to save money on travel for one of the companies I own and save money on personal travel all while still building points with JIFU. No longer do I have to worry about overpaying for a hotel just for points and I'm not locked into one luxury brand hotel.

I've been able to experience all sorts of luxury boutique hotels nationwide outside of the big chain brands I had been accustomed to. I can earn double points on stays and save.
I know that whatever the savings are, whether it's 5% or 70% savings, I am truly saving more than anything else out there and that is without a doubt. That is why I joined JIFU.
Additionally, I've met a group of people within the JIFU community that I've grown fond of. I've built strong relationships and lifelong friendship I never thought I could get at this stage in my life.
It's a great and supportive community that I'm thrilled to be a part of.
About JIFU
JIFU is a company that provides all members around the world access to vacancy travel in hotels, flights, resorts, cruises, rental cars, reward credits, concierge services, activities and excursions. Our goal is to create long term value that develops easy retail bonuses and long-term earnings. JIFU provides best-in-class travel savings and a compensation plan that is unmatched in the industry. For more information please visit www.jifu.com
Recommended Distributors Jifu