Nathalie Nicole Smith Reaches Global Director Rank With Total Life Changes
January 23, 2020
By Nicole Dunkley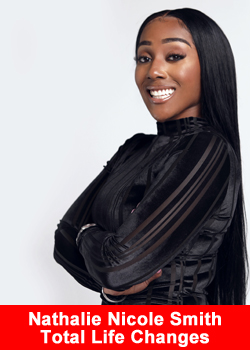 Nathalie Nicole Smith initially joined Total Life Changes (TLC) on May 20, 2015, and says she wanted to gain extra income and leverage her brand.
She saw incredible potential in building a business with TLC and completely supported their vision to help people improve their health and offer an affordbale solution to running a business from the comfort of their own home.
Nathalie also runs her own nonprofit, Women Who Boss Network, and believes that TLC helps her, and other families become financially stable and live their best lives. She states that her 'why', or the driving factor in her joining TLC, is to be financially secure:
"My 'why' is to be able to be financially free, so I could always be a blessing to the people I love. Finances hold a lot of families back. They are in debt, they are not where they want to be, sometimes that can cause stress. So, my goal is to live the best life that God has for me and to be able to be a vessel to others. TLC allows me to activate my 'why' and live in my 'why'."
One of her favorite TLC products is NRG. It was the first product she tried and says it allows her to focus and control her ADHD. She then tried NutraBurst, orginal Iaso® brewed tea, and the Iaso® Tea Instant formula with Hemp Extract, which has helped her lose about 20 lbs.
Nathalie says she has heard many amazing stories from her downline and her customers who use the TLC products:
"I have a lot of people that are losing weight, and their lives are changing. Even my mom… my mom lost over 30 lbs. with TLC products and she loves it.

My grandmother who is a cancer survivor uses the Nutraburst every day for 4 years now. My dad is on the products, he is losing weight. So, my entire family is on TLC products."
Nathalie says that TLC's culture is amazing, and the leadership is solid, and CEO Jack Fallon, COO John Licari and her sponsor, Stormy Wellington, are great examples of leaders:
"To be able to have principles and core values, it just matters. For me, I do live by the core values. That's why TLC is where they are. It's a good place to be, it feels like home. For me, I really don't even think twice about TLC, it's just something I know is going to work."
In the short term, Natalie wants to achieve the personal goals that she sets every month and be financially free. In the long term, she wants to be an asset to the company:
"My goal is to help build the personal brand of the distributors and show them that you can be an everyday average person, and just be a voice for TLC…my goal is to stand by and make TLC's name great."
For her, achieving Global Director rank was truly amazing, and she is extremely grateful for the TLC community and proud of herself.
"My legs flipped in the binary before I was hoping to get there, it wasn't really easy at all. But I made the decision that I wasn't going to let anything get in the way of just elevating and dominating at what I'm doing.
I have a global team all across the world, and if it wasn't for my amazing team, the love and the compassion, the teamwork, I couldn't do it."
About Total Life Changes
Total Life Changes (TLC) is a direct selling company offering a diverse product portfolio of health and wellness products. Founder and Chief Executive Officer Jack Fallon created TLC 16 years ago with a single product: NutraBurst®.  Since that time, TLC has continued to develop weight loss and wellness products matched with an attractive hybrid binary compensation plan.
This allows Life Changers of TLC to be rewarded quickly for introducing new customers to its products and business opportunity. Find out why so many are saying, 'It really is different over here.' For more information please visit www.totallifechanges.com
Recommended Distributors Total Life Changes