Dianna Williams hits Executive Director Rank at Total Life Changes
February 28, 2020
By Nicole Dunkley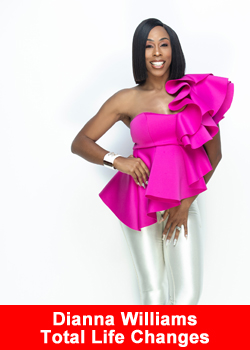 Dianna Williams initially joined Total Life Changes (TLC) in December 2019. She had been following Executive Ambassador "Coach" Stormy Wellington on social media and was very curious about how she achieved her everyday appearance and stayed fit and healthy.
Stormy invited Dianna and her husband to a business meeting with Ana Cantera, and she was introduced to TLC's products, including the liquid multivitamin NutraBurst®, the energy supplement NRG, and the Iaso® detox Tea with Full-Spectrum Hemp.
She instantly saw how beneficial and amazing these products were, and she signed up to be an independent distributor. Dianna praises Stormy for being a hardworking and supportive sponsor:
"Stormy has given me motivation. She makes sure that I understand what I need to do to be successful. She made sure that I understood the benefits of the compensation plan. I already have a huge customer base with the celebrity status that I have. With Stormy knowing that she knew that retail was going to be a great choice for me, so I pushed on."
Dianna draws from her fame from being a part of the Lifetime TV Show "Bring It!" and owns three dance studios named "Dancing Dolls" in Mississippi, Alabama, and Georgia. Her fame on this TV show allows her to have an edge in the dance and cheer world, and an audience to embrace the TLC product and culture. Dianna says that NutraBurst® is an essential product, and she encourages her dancers to use it to gain a burst of energy and nutrition:
"Within the next three months, I will be able to break into the cheer and dance market, and NutraBurst® will be used as a normal product that the cheer coaches, dance moms, and dance teams will be using. If I'm able to get the product integrated into that market as a nutritional supplement that dancers need, it's going to be a game-changer."
Dianna says switching gears from a dance coach into TLC's retail market has been her biggest challenge, as she has been with TLC for about 40 days. But she doesn't let that hold her back, because her success has been monumental. Her secret to selling TLC products is never to let the answer be "no," and she always uses customer feedback and incorporates it in her business.
Dianna says that TLC's culture and energy are like Mardi Gras, and everyone is excited to be at work. She loves how humble founder and CEO Jack Fallon is:
"I remember when I met Jack Fallon, I didn't even know that it was him. We went into the meeting, and I remember seeing John Licari and a couple of other people. And when Jack was introduced as the CEO and founder, I was humbled. The owner of the company was walking around like any other employee. And that I can respect, wholeheartedly."
Dianna says TLC has exceeded her expectations, and she has accomplished her short-term goals already. Her long-term goal is to become a Global Ambassador and help more people believe in TLC:
"I want to help people to believe the way I believe in the company and feel the way I feel about the products. I want them not to stress and be able to have freedom. I want to have the opportunity to make an impact and take this movement globally. TLC will become a household name, and I want to be a part of the movement to make that happen."
About Total Life Changes
Total Life Changes (TLC) is a direct selling company offering a diverse product portfolio of health and wellness products. Founder and Chief Executive Officer Jack Fallon created TLC 16 years ago with a single product: NutraBurst®.  Since that time, TLC has continued to develop weight loss and wellness products matched with an attractive hybrid binary compensation plan.
This allows Life Changers of TLC to be rewarded quickly for introducing new customers to its products and business opportunity. Find out why so many are saying, 'It really is different over here.' For more information, please visit www.totallifechanges.com
Recommended Distributors Total Life Changes