Industry Icon David Butler Joins Quiari
February 25, 2020
By Team Business For Home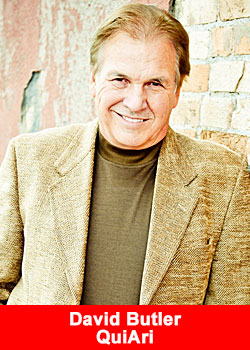 What does it take to achieve your dream lifestyle? For QuiAri Promoter, David Butler it was a total career change.
David graduated from Brigham Young University in Provo, Utah and landed a prestigious job as a high-powered stockbroker. He was very good at his job and even better at building long-lasting relationships with clients. There was only one thing David lacked: opportunity.
"I was contributing to everyone's success around me, but felt like I wasn't moving the needle on my own. I was introduced to network marketing and liked the idea of doing more meaningful work and having more control over my financial destiny,"
stated David Butler. 
David has been in the MLM industry full-time for over 35 years now and built massive networks ranging from 500,000 to 1 million people, making him a solid six-figure career earner. He built his wealth by following his passion for health and fitness. Becoming a product of the product was always important for David, so he actively sought out health and wellness MLM businesses.
"My health is important to me. I stay active, eat right, and use nutritional products to help fill in the gaps. The biggest success stories have come from health and wellness companies with products that actually work. I'm excited to be a part of QuiAri because I've never seen products in the industry that work this well,"
David is currently taking the 90-Day Kickstart Challenge and feels it has helped him do a better job promoting it to others.
"The products were certainly not what I was expecting. Most healthy shakes taste like ground-up cardboard and water so you have to blend in fruit or flavoured milk to mask the taste. QuiAri is the smoothest, richest, most delicious shake I had ever tasted and all I add is cold water,"
said David Butler.
David takes QuiAri Energy after drinking his Shake (he prefers vanilla), which helps him stay active. He's an avid skier and lives close to the slopes. He enjoys waking up early to "catch the freshest powder." All of David's ski friends have noticed a change in his energy levels, and he is quick to give credit to QuiAri's 90-Day Kickstart Challenge. Some of them have loved the products so much that they are now QuiAri Promoters too. Because of the way QuiAri is expertly structured, David hasn't had much difficulty in getting others to join his team.
"The CEO and Founder of QuiAri, Bob Reina has lived up to his reputation for being an industry game-changer. With exclusive products, innovative, state-of-the-art technology, and a revolutionary Compensation Plan that provides Same Day Pay, that's payment just 5 minutes after a sale, if you love QuiAri products, it just makes sense to become a Promoter.

Bob has created a very uncomplicated system that even Promoters with no MLM experience can quickly understand and benefit from."
QuiAri helps new Promoters hit the ground running with a bonus that rewards them for building their business quickly. In addition to Same Day Pay, they can earn up to $1,000 in their first 30 days, including a one-time $500 Speed Bonus. Plus, there are many other ways to earn bonuses and free products as your team grows. Since QuiAri has been experiencing record-breaking international expansion, many people are joining QuiAri before their market value explodes.
"This is a ground-floor opportunity for anyone that wants to get healthy and earn money doing it. I personally have contacts in Europe, Mexico, Australia, New Zealand and Taiwan and am promoting heavily overseas. I think QuiAri will eventually have Promoters located in every city in every country in the world. We have a real opportunity to help a massive amount of people improve their health. There is no way I could have made this kind of a positive impact on the world when I was a stockbroker. I'm living without any regret,"
stated David Butler.
About QuiAri
QuiAri provides life-changing opportunities that empower people to feel their best so they can live their best. Their breakthrough health and wellness products are made from an exclusive extract of the maqui berry, the world's new number 1 superfruit. Plus, QuiAri offers opportunities to receive Same Day Pay just by sharing their products with others. Try. Love. Share!
To learn more about QuiAri, or to get in touch with a Promoter, visit QuiAri.com.
These statements have not been evaluated by the Food and Drug Administration. These products are not intended to diagnose, treat, cure or prevent any disease.
Income Disclosure Statement
Please note the QuiAri business opportunity offers unlimited income potential. However, QuiAri makes no guarantee of financial success. Success with QuiAri results only from successful sales efforts, which require hard work, diligence, skill, persistence, competence, and leadership. Your income will depend upon how well you exercise these qualities.
 As QuiAri is in its first year of business operations, we do not have sufficient statistical data to prepare complete, first-year income disclosures. A more detailed survey will be conducted after our first year of business. If income projections were presented to you prior to your enrollment, such projections are not representative of the income, if any, that you can or will earn through your participation in the QuiAri Compensation Plan.
Recommended Distributors QuiAri