Jeffery Boyle – Are We Still Dedicated to Human Optimization?
February 20, 2020
By Team Business For Home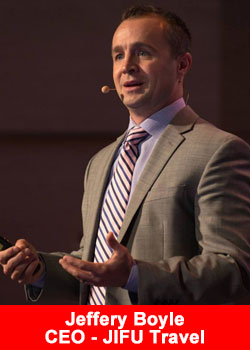 Jeffery Boyle is Juris Doctorate, ACE Personal Trainer, Fitness Fanatic, Globe Trekker, Husband, Father of 5 and CEO of JIFU.
Jeffery says:
I love network marketing. Our industry has been led by legends such as Jim Rohn who was dedicated to human optimization for many years. He and others have set us apart in a very good way.

Today there is a new emerging generation of network marketers, with new needs that may not be addressed if we do not evolve.
The regular workplace is full of doubt, pessimism and tremendous uncertainty. Our industry has been an escape from the monotony of 9 to 5 giving honest entrepreneurs the permission to be dreamers, take calculated risks, and have a say in a better future.
The first network marketing meeting I ever attended was in 1995 in a coliseum with twenty thousand crazed entrepreneurs singing "I Wanna Be Rich," and it lasted until 3:30 in the morning. As fun as it is to dream about wealth, a recent predominant focus on quick money, large packs, and fast bonuses will cause distrust with wary consumers and tremendous compliance issues for years to come. Don't get me wrong, I believe in high payouts, but that should never take away from foundational skills, teaching real sales technique and value creation for customers.
We are in the business of confronting destructive habits, stretching personal limits and empowering passionate entrepreneurs wanting to help change the world for the rest of us.
We are looking for game-changers with the goal of providing them the launching pad to own their life and become a force for good. I constantly ask myself if we are doing enough to evolve our methods so we can attract and keep these new entrepreneurs.
An amazing 74 percent of people now prioritize experiences more than things.* To remain viable, we must improve the customer and distributor experience, create more adventure, and capture a very motivated group of Millennials and Baby Boomers.
As a middle aged "old" guy, I have a renewed dedication to a balanced and complete life in our company's new training program. As a result of a renewed focus on transformational experiences, we have begun to attract Millenials interested in videos of me sand surfing, skydiving and ice swimming. I also love working with Baby Boomers now joining us because they love to travel and understand the value of good nutrition and exercise in this new phase of their lives.
My definition of success is a complete family life, a healthy body, a peaceful spirit and sufficient money to stop worrying about money. I want to drink life up and share its joy with everyone around me.
I truly hope that we will rededicate our training to real human optimization and happiness creation versus just creating and accumulating wealth.
We are an amazing industry, and we should stay that way by evolving with the needs of our entrepreneurs and customers. As Earl Nightingale said, "The truth is, that you can only earn money after you're successful."
*Center for Generational Kinetics
About JIFU
JIFU is a company that provides all affiliates around the world access to vacancy travel in hotels, flights, resorts, cruises, rental cars, reward credits, concierge services, activities and excursions. JIFU provides best-in-class travel savings and a compensation plan that is unmatched in the industry. See how simple JIFU is to share by watching "What is a JIFU Buddy Pass" video here.
Recommended Distributors Jifu