Rodney Credit Hits Executive Director Rank in 30 Days
February 14, 2020
By Nicole Dunkley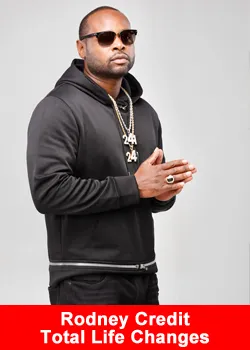 Rodney Credit joined Total Life Changes (TLC) initially to see what the MLM industry had to offer. But he found that it was bigger and better than he thought, and he achieved Executive Director Rank in 30 days, which is not an easy feat.
He joined TLC in 2018 and was inactive for about two years, but he came back full force in December 2019. Rodney met his sponsor, Stormy Wellington, in person, and since they had a friendship before TLC, the sponsorship fell right into place:
"We brainstorm all the time. We are willing to go down different paths to see what we will be able to bring to the brand to make our team a little bit better and also make the company better."
Rodney says his "why" is to make his children's lives better and have a job that allows him to spend quality time with them.
"I was looking for a way out of the street mentality and lifestyle. I wanted to make a change, I wanted to be able to take my kids out of that lifestyle, and I want to be around for them. So, I decided to make the change. Now that TLC has recently added hemp infused products, I felt like it was the right time, it was my opportunity. And I'm building in an industry that I'm already familiar with."
Rodney highlights the compensation plan, saying that it really attracted him to TLC specifically. He had no prior MLM experience, but he says it was easy for him to sell the TLC products because he knew that they worked well, and the benefits of selling these amazing products were endless. Rodney's favorite products are the Iaso® Tea with Full Spectrum Hemp because it helped him lose 25 lbs. and it made a total change to his body and overall health.
The culture of TLC is also very positive and welcoming, and makes Rodney feel at home:
"The culture of TLC has a fit for every different type of person. We are culturally diverse. Somebody that is new to the business will be able to come in and join the team that fits them the best. TLC is a diverse company with a home for everyone."
Rodney's short-term goals include losing an extra 15 lbs. using the Iaso® Tea with Full-Spectrum Hemp Extract within the next three months. His long-term goal is to continue working with TLC and seeing their innovation skyrocket:
"I want to stick around and continue to see what TLC can continue to bring into the market. Unique CBD products definitely will do best in this market."
About Total Life Changes
Total Life Changes (TLC) is a direct selling company offering a diverse product portfolio of health and wellness products. Founder and Chief Executive Officer Jack Fallon created TLC 16 years ago with a single product: NutraBurst®.  Since that time, TLC has continued to develop weight loss and wellness products matched with an attractive hybrid binary compensation plan.
This allows Life Changers of TLC to be rewarded quickly for introducing new customers to its products and business opportunity. Find out why so many are saying, 'It really is different over here.'
Recommended Distributors Total Life Changes