Total Life Changes Announces G5 Madness
February 29, 2020
By Nicole Dunkley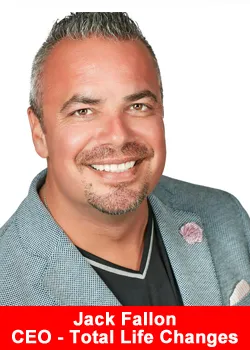 Total Life Changes (TLC) prepares its sales leaders for G5 Madness in the month of March. Giving away a total of $10,000 and a 2020 custom Jeep Wrangler. TLC initially launched The G5 Challenge in August of 2019 to boost Life Changers' success in their first 30 days of business.
COO John Licari and CCO Scott Bania introduced the TLC community to this G5 initiative in New York. The G5 Challenge encourages Life Changers to get five brand-new customers to purchase a top product in the first 30 days of business. Qualified Life Changers receive a $50 bonus, ten product samples to acquire more customers, and a custom G5 pin to wear and share their success with their business partners.
The G5 Challenge is an incentive to promote behavior that allows business partners and customers to have long-term business success. The 10-5-2 model is a duplicatable strategy that is incorporated into the G5 Challenge as well. It represents having ten people try a product sample, inspiring five customers to buy a product, and finding two people to "fly" with you as Life Changers. Following this model, they will become cash positive and weight negative in their first 30 days with TLC. 
The G5 Challenge has been well received by many. Seventy thousand new Life Changers have joined since August 2019, resulting in over 170,000 brand new customers, which shows tremendous growth and success for everyone involved. TLC has awarded 16,645 G5 bonuses since August 2019. TLC is truly living up to one of its core values; our standard is giving more than what is expected.
The results of the G5 Challenge are incredible. Total Life Changes is experiencing three times its sales volume in Q1 of 2020 compared to 2019, and each week continues to set new company sales records. As if TLC hasn't done enough in 2020 already, they are launching G5 Madness during March.
When a Life Changer becomes G5 qualified, they will receive the $50 bonus as well as an entry into a cash raffle where they can win up to $5,000. If a Life Changer achieves G5 for all five weeks in March, they will receive a free ten pack of Original Iaso® Tea as well as a chance to win a custom G5 2020 Jeep Wrangler. TLC truly believes that investing in its customer base and expressing gratitude to all of its Life Changers will continue to create more life-changing stories.
TLC's Chief Operation Officer John Licari discusses the company's tremendous momentum:
"More than ever, I see our Life Changers using TLC as a vehicle for change. The most exciting part of this business for me is having the opportunity to witness them improving their lives and the lives of so many others on a global scale. When people join our community and understand that if they dedicate their resources to helping others succeed, they will be rewarded in so many ways; mentally, spiritually, and financially. This business model is so unique; the more people you help to succeed, the stronger your organization will become, and the more opportunity there is to create retail and residual income."
About Total Life Changes
Total Life Changes (TLC) is a direct selling company offering a diverse product portfolio of health and wellness products. Founder and Chief Executive Officer Jack Fallon created TLC 16 years ago with a single product: NutraBurst®. Since that time, TLC has continued to develop weight loss and wellness products matched with an attractive hybrid binary compensation plan.
This allows Life Changers of TLC to be rewarded quickly for introducing new customers to its products and business opportunity. Find out why so many are saying, 'It really is different over here.'
Recommended Distributors Total Life Changes