Bianca Shadai Advances To National Rank at Total Life Changes
March 25, 2020
By Team Business For Home International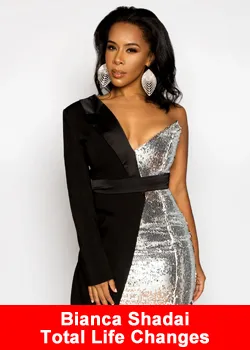 Bianca Shadai was hesitant about joining a network marketing company. But being laid off from her 7-year career at Wall Street and being forced to move into a one-bedroom apartment with her mom had her considering if network marketing was a good choice for her future. She questioned her college degree, her success in finances, and self-reflected, which allowed her to open new doors:
"That time where I just lost everything and me just fighting and re-evaluating myself. I asked myself, 'I did everything right, what is going on?' And this difficult time opened the room for opportunity."
While scrolling on her phone, Bianca came across "Coach" Stormy Wellington's page and saw that she was hosting a 30-day weight loss challenge with a cash reward. Knowing that she wasn't feeling the best about her self-image, Bianca saw this as a way to improve her health and saw it as a sign to get her life back in order.
She purchased NutraBurst®liquid multivitamin, NRG dietary supplement, and Iaso® Instant detox Tea. Next she got on her social media account to team up with other women, and committed to this challenge, keeping her team accountable on their journey.
"That's when the products went from my head to my heart, because I had these girls that I never met before, these strangers, and not only did I help in changing their lives physically, it was mentally and spiritually too. And it was around Christmas, so they had a great Christmas that was much needed when we all got our reward money."
Bianca then met Nathalie Nicole Smith, her sponsor, at one of Stormy Wellington's events, and was instantly convinced that TLC was going to work for her. She immediately connected with Nathalie, because she heard about her struggles before TLC and saw they were similar to her own. This inspired Bianca and drove her to pursue her TLC business even more, and she went full force as a Life Changer in March of 2019. She excelled in ranks and achieved National Director rank in February of 2020.
Bianca says her 'why' with TLC is twofold. Being a single mom, she wants to provide her son with the best quality of life that she can and wants to leave "generational wealth" for him. But she also realized that helping people and changing the outcome of their lives makes TLC something that she loves and says that consistency and not giving up is the key to her success.
Bianca's short-term goals include reaching more people outside of her home state, New Jersey, and even start reaching more customers on a global scale. In the long term, Bianca wants to create a strong team of Life Changers that continue to advance in ranks, which will help them reach more customers who can change their lives by using TLC's products.
She has never-ending gratitude for her sponsor Nathalie and Coach Stormy, saying if it weren't for their direction, she wouldn't have the same experience and success that she has now:
"My sponsor, Natalie, and Coach Stormy, I want them to know how much I appreciate them. Her and Coach Stormy change my life, along with Total Life Changes. I did this in such a short time, it was all because of their guidance, and they helped me pave my way in this business."
About Total Life Changes
Total Life Changes (TLC) is a direct selling company offering a diverse product portfolio of health and wellness products. Founder and Chief Executive Officer Jack Fallon created TLC 16 years ago with a single product: NutraBurst®.  Since that time, TLC has continued to develop weight loss and wellness products matched with an attractive hybrid binary compensation plan.
This allows Life Changers of TLC to be rewarded quickly for introducing new customers to its products and business opportunity. Find out why so many are saying, 'It really is different over here.' For more information please visit www.totallifechanges.com
Recommended Distributors Total Life Changes