Bonita Lee McClain Excels To National Rank at Total Life Changes
March 28, 2020
By Nicole Dunkley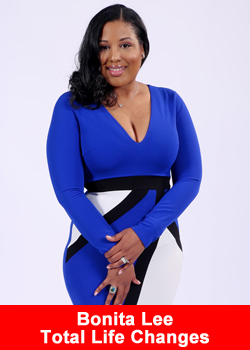 Bonita Lee McClain initially joined Total Life Changes in 2013 and rose to Ambassador Rank, boasting the title of third-ever TLC Ambassador.
After hitting a plateau in 2018, she left TLC to pursue other business ventures within the hemp market. But after she saw what hemp products TLC released, she was instantly convinced that she had to make a change at the beginning of 2019:
"I came back to TLC, and I had to rebuild it again, I had to start over. And within five months, I was able to build myself back to National Rank."
Bonita's sponsor, Denise Lee, has been there for her as a business partner before TLC. Coming back to TLC and having Denise's positive influence and guidance was a win for her. Seeing firsthand how well the products worked and earning more than she ever has in network marketing convinced her that she was in the right company. This opportunity has brought her more than she had expected, and she says TLC has changed her life:
"To be able to say yes to my kids, It has changed me. We used to not be able to afford much, but now we can take vacations together like we were able to take a trip to Disney World. Little stuff like that really matters to me. To be able to do that for my family just puts a smile on all of our faces."
Bonita loves that TLC has allowed her to bring more to her family than ever before, but also says her "why" includes more. She says TLC is a vehicle that will enable her to accomplish her goals, and leave the next generation something to look up to and be inspired by.
Bonita has a wide range of TLC product favorites, including the Original Iaso® Tea, the Full-Spectrum Hemp Instant Iaso® Tea, the NRG supplement, and the flagship favorite liquid multivitamin NutraBurst®. Both teas have helped her lose over 30 lbs. and stay regular, and the NRG helps her stay energized throughout the day. She also takes NutraBurst every morning and says she feels proud when she wakes up and gives her three kids NutraBurst too because she knows it will provide them with essential vitamins that they need.
Bonita sums up TLC's culture by incorporating one of their own taglines:
"Total Life Changes has definitely changed. It really is different over here. You can tell that we are family. (CEO) Jack Fallon knows who you are, and (COO) John Licari does too. They know you by name, and I love that. The culture is different because I feel like they truly care. This is loving; this is not fake; this is real. And it all starts with Jack and John."
In the short term, Bonita wants to help as many people as she can with TLC, whether it be enrolling them under herself or even expose them to the products. In the long term, she looks forward to TLC's growth and wants the company to grow into a billion-dollar industry.
"I really look forward to helping TLC reach its full potential. I want to be a part of it and be a part of whatever TLC does, I want to help push the company there. I'm going to be around forever with TLC."
About Total Life Changes
Total Life Changes (TLC) is a direct selling company offering a diverse product portfolio of health and wellness products. Founder and Chief Executive Officer Jack Fallon created TLC 16 years ago with a single product: NutraBurst®.  Since that time, TLC has continued to develop weight loss and wellness products matched with an attractive hybrid binary compensation plan.
This allows Life Changers of TLC to be rewarded quickly for introducing new customers to its products and business opportunity. Find out why so many are saying, 'It really is different over here.' For more information please visit www.totallifechanges.com
Recommended Distributors Total Life Changes