Business Leader Sabrina Wright Thriving With Touchstone Essentials
March 20, 2020
By Team Business For Home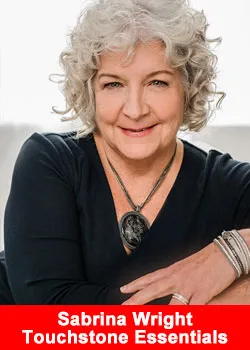 Visionary Business Owner [VBO], Massage Therapist and Wellness Expert, Sabrina Wright, is on a mission. After being in the corporate retail world for 35 years, Sabrina transitioned to massage therapy and says Touchstone Essentials is the perfect complement to her personal mission of helping people achieve balanced self-care.
"Touchstone Essentials fits in perfectly with my practice because I look at my clients from a whole person perspective. We get to the root problem of what's going on. When we first meet it's a huge education process which gives me the opportunity to build meaningful relationships with every person and help them reconnect with their own bodies to find balance."
Sabrina's practice, The Wright Balance, focuses on educating and empowering people to live a balanced lifestyle that supports health and well-being. Through body awareness techniques, education on self-care, nutrition, movement and exercise, Sabrina has always taken a multifaceted approach to wellness. Touchstone Essentials helped her take that approach to the next level. She shared,
"Few things bring more delight to my life than helping people improve their lives – mentally, physically and spiritually and Touchstone Essentials plays a big role in that."
Sabrina says she first turned to Touchstone Essentials to physically help her maintain her massage therapy career. She was seeing so many clients she was icing her joints several times a day. Upon using the organic, whole food wellness supplements, Sabrina found that her joint discomfort was greatly reduced, her energy was improved, and she was feeling younger. As her passion for the products grew, so did her passion for sharing them.
"At first, I used Touchstone Essentials' products for myself, and the products are incredible. But as I continued using them and seeing my clients experiencing some of the same issues, recommending them became second nature. Between Calm Premium Hemp Oil, Pure Body and Pure Body Extra, Super Green Juice, Super Organic Protein, all of them really, we have something that can help everyone."
Sabrina says Touchstone Essentials also supports a huge part of her message, which is about self-care. She says one of the biggest issues she sees is people simply not taking care of themselves.
"Typically, my patients are at points in their lives where they are taking care of others, be it parents, children or grandchildren. What happens is people get too focused on what they think they're obligated to do, and self-care falls by the wayside. Before I can help the whole person, they have to understand the importance of taking care of themselves because you can't pour from an empty container. Prevention is a huge part of it."
As Sabrina became more involved in her Touchstone Essentials business, she realized just how much her mission was perfectly aligned.
"I met Eddie Stone and his wife, Maria at a conference in Raleigh, North Carolina and I was so impressed with his mission, direction and heart, that I knew I wanted to become a bigger part of it. Everything about the Touchstone Essentials' mission resonated with me, my industry and my perspective."
Even Sabrina's practice is all word of mouth. She says she's enjoyed steady referrals over her entire career and never once had to advertise—and she has no plans of stopping any time soon.
"Really and truly, Touchstone Essentials is my business and I'm passionate about our mission to help one million families. My specialty is working with people one-on-one, and my massage practice affords me that, but what I love about Touchstone Essentials is that it gives me the ability to work with a team of people, on a global level. I love my massage practice and will have my hands available for as long as I can, but Touchstone Essentials is my vehicle for spreading my message of balanced self-care well into my retirement and hopefully to generations beyond."
About Touchstone Essentials
Touchstone Essentials was founded in 2012 by 30-year industry veteran, Eddie Stone, with a vision of organic goodness accessible to everyone. They ship to over 60 countries around the world. Touchstone Essentials has been experiencing double-digit growth over the past 3 years and with the launch of the organic CBD hemp oil line, things have started reaching critical mass. They describe themselves as proud rebels with a cause, offering products for Daily Detox, Organic Superfoods, and CBD.
When you join as a VBO, you become a visionary business owner. As a VBO, you're the CEO of your own empire, but you're not alone. Touchstone Essentials offers an advanced digital marketing system with a trove of resources, all at no additional cost. This includes a TheGoodInside.com e-commerce site, blog, and e-newsletters, social media retargeting and more. For more information please visit www.thegoodinside.com