Former Mayor Chris Brown Climbs Ranks At Total Life Changes
March 3, 2020
By Team Business For Home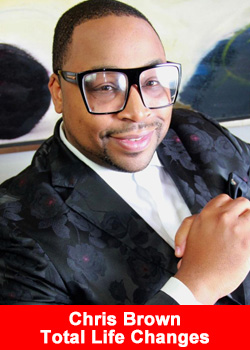 Chris Brown, the first African American mayor of Hawthorne, California, joined Total Life Changes on November 26, 2019.
Before and during his mayoral term, he faced many hardships, including foreclosure and bankruptcy. Chris has transcended these obstacles and made the trek "from foreclosure to Forbes" by using his mayoral platform to help communities legalize cannabis in local cities. He truly believes in TLC's mission and products, and says his sponsor, Stormy Wellington, drives him to achieve more with his TLC brand:
"She kept a bug in my ear about TLC, and when we went over to the hemp side, it made the decision a lot easier, because I knew of her leadership skills. It's not just to help other people create wealth and health, but also to take my brand outside of California, not just nationally, but internationally."
Chris hit Director rank, then Executive Director rank within the first 48 hours of joining TLC. Chris is now a Regional Director and is very close to hitting National Director rank and says Global Director rank is within sight. He loves the Full-Spectrum Hemp Iaso® Instant Tea, as it helped him lose 29 lbs. in 6 weeks. Chris believes that hemp is a useful key to unlock many doors for local communities, and is currently enrolling tons of new Life Changers, and getting entire cities involved in the hemp and TLC collaboration:
"I have elected officials that are enrolled under me; I have four mayors ready to roll! Starting in April, I'm doing a mayor's tour. I will visit different mayors across the United States and educate them about the difference between THC and hemp and why hemp can be not only healthy for the community but also be profitable. That is going to be a game-changer for the customer base and cities promoting these products and services."
He wants to drive the hemp mission by educating and informing his customer base about the benefits of using hemp-infused products. He says many are reluctant to try it, due to its association with cannabis, but says education is the first step to clearing up the confusion:
"A lot of times, people don't know the difference between THC and hemp. This is actually a good segue to introduce hemp products and educate people about hemp. Congress passed the Hemp Act in 2018 that separated THC and hemp, and the whole hemp movement needs to be taught, and people need to be educated a little bit more.

And coming from a policy side, I'm always leading with education before I even go into the products and services. Because that's always going to be questioned at the end if you don't say it upfront."
He says his "why" with TLC is his children. He initially wanted to retire at the age of 40 and travel the world, but TLC gives him a vehicle to work and travel at the same time, which is a win-win to him. Chris wants to be a "super dad" for his children, and be able to take them around the world to experience new cultures:
"My son, Chris Jr., I sent him a list of all the places that TLC does business now, and I said 'start checking off places you want to go!' because dad will be opening these local cities, and local countries and that will allow me to take them with me."
Chris says his short-term goals include using his non-profit organization, Houzvets, to reach out to 100 veterans and help them maintain a part-time income by incorporating TLC's hemp products. In the long term, he aims to enroll 1000 families as Life Changers in 2020. Overall, Chris truly loves TLC's culture, and says it is beautiful, motivating, inspirational, and overall life-changing:
"This is what we are, we are life changers, and we are making people healthier, which is very important. Health is wealth, and health comes first."
About Total Life Changes
Total Life Changes (TLC) is a direct selling company offering a diverse product portfolio of health and wellness products. Founder and Chief Executive Officer Jack Fallon created TLC 16 years ago with a single product: NutraBurst®.  Since that time, TLC has continued to develop weight loss and wellness products matched with an attractive hybrid binary compensation plan.
This allows Life Changers of TLC to be rewarded quickly for introducing new customers to its products and business opportunity. Find out why so many are saying, 'It really is different over here.' For more information please visit www.totallifechanges.com
Recommended Distributors Total Life Changes