JIFU President Bradley Boyle Receives Certificate In Crypto/Blockchain Technologies
March 25, 2020
By Team Business For Home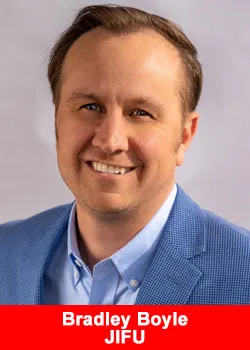 JIFU President Receives Certificate in Crypto/Blockchain Technologies from MIT (Massachusetts Institute of Technology)
Network marketing has become a global industry without borders. Networks no longer are confined to a single country and companies are now forced to confront unprecedented banking challenges. The companies that are not keeping up with the changes and demands of alternative currencies will soon find themselves on the outside looking in.
JIFU's dedication to meet these new currency demands began by giving entrepreneurs options to pay fees and receive commissions in cryptocurrencies. In order to take a leading position in cryptocurrency and blockchain within network marketing, JIFU President, Bradley Boyle, received his certificate in Blockchain Technologies: Business Innovation and Application from world-renowned Massachusetts Institute of Technology.
JIFU's transparent lifestyle business model has combined with very high commission payouts to create massive growth and customer savings!
JIFU CEO, Jeffery Boyle, explains:
"In less than a year, customers and affiliates from over 70 countries have joined JIFU.
We have seen a fast adoption for payments and enrollments utilizing crypto assets. We also offer the choice to our affiliates to receive commissions in Bitcoin. We knew that we needed to respond to this increasing demand and develop a strategy to support cryptocurrency's growth.
Now, we want to expand on our cryptocurrency strategies.  When blockchain is done properly, it is one of the most transparent business tools available. Blockchain would prevent companies from being able to improperly disrupt lines of sponsorship and add unprecedented protection to entrepreneurs in the field. Bradley's business background and education were perfect fits to help JIFU become a world leader in reputable crypto strategies.
Bradley is no stranger to higher education with advanced degrees from University of California at Berkeley's Haas School of Business in Technology Marketing and a Masters in Business Administration (MBA) from Columbia University. With his dual MBAs, MIT blockchain certificate and an international team of experts, Bradley is leading JIFU's cutting-edge blockchain and crypto strategies to ensure they are legally compliant and fully transparent for JIFU's customers and affiliates.
"Bradley explains,
"The blockchain and crypto world is exciting. However, it is unfortunate that there are far too many scams and illegitimate programs being introduced to unsuspecting network marketers and novice entrepreneurs.

Far too often, we see excited network marketers joining these scams that are far from transparent. The blockchain was designed to develop trust and to decentralize the systems, however, the scams we see in this industry are disingenuous from the start.
Unfortunately, our industry has already seen too many crypto projects emerging that are only promises of future programs and are nothing more than a Ponzi without a true utility or real ecosystem. JIFU will only introduce programs with proper legal scrutiny and run with the highest of standards following the idea of a transparent blockchain."
With an arsenal of new crypto and blockchain strategies ready to be deployed, JIFU will lead the direct sales world in legitimate crypto utilization and transparent business strategies.
Bradley further explains:

Learning from leaders and the top crypto scholars at MIT was an amazing opportunity because I was able to see quickly that blockchain was designed for transparency and to create an open and true dependency. Unfortunately, it also became very apparent that many of the crypto leaders in network marketing are not providing a long-term and transparent opportunity for their field leaders.
We are building an ecosystem that will create true value and develop long-term strategies for our customers and affiliates worldwide."
About JIFU
JIFU is a company that provides all affiliates around the world access to vacancy travel in hotels, flights, resorts, cruises, rental cars, reward credits, concierge services, activities and excursions. JIFU provides best-in-class travel savings and a compensation plan that is unmatched in the industry. Follow JIFU at www.jifu.com to learn more.
Recommended Distributors Jifu