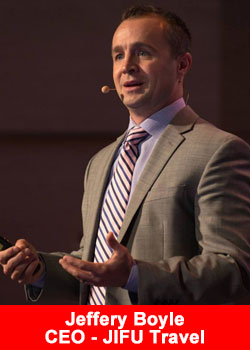 JIFU Sales Up 70% In March
April 4, 2020
JIFU, a lifestyle company and vacancy travel wholesaler, released new business tools and announced future offerings which helped propel March to its best month since its launch.
Philippe Moser, JIFU's SVP of Field Development, explains,
"We had multiple major markets grow in double digits in March. When you combine our value proposition for customers with our passion for leadership, training and human optimization for entrepreneurs, we are attracting and developing real leaders.
As the world crisis rages around us, we are firing on all cylinders developing leaders until the world heals. The result has been awesome. We are seeing industry leaders from all over the world reach out to us because they align with our vision. Our message resonates with them and they understand the importance of our new tools to help create long-term financial and personal growth for years to come."
To ensure future growth, JIFU continues to move forward with industry changing initiatives in blockchain and additional services that bolster our value proposition and enable motivated entrepreneurs to share our services with customers.
Jeffery Boyle, JIFU CEO, says,
"Our leaders are stepping up and creating long-term strategies for future growth. Our teams are using this time to strengthen their people, develop new skills and even mentor new leaders. We know this crisis will eventually end, and when it does, JIFU will be ready for continued worldwide growth.
To support this growth, our marketing team has improved our mobile app, upgraded marketing pages, and simplified our powerful message. The end result has been an increase in training, skill development, value sharing and personal evolution."
About JIFU
JIFU is an exclusive-value company that provides all customers and Member Affiliates full access to vacancy travel in hotels, flights, resorts, cruises, rental cars, reward credits, concierge services, activities and excursions. JIFU provides best-in-class travel savings and a compensation plan that is unmatched in the industry. For more information please visit www.jifu.com
Get more information, fact and figures about Jifu, click here for the Jifu overview.
Recommended Distributors