Larry Lane Merges With Total Life Changes
April 10, 2020
By Nicole Dunkley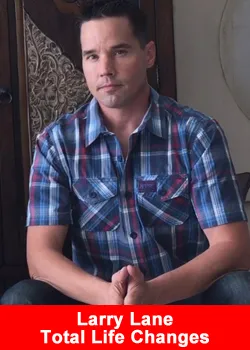 After seeing the longevity and impact of Total Life Changes (TLC), Larry Lane knew that signing up with the company was the right choice. He joined TLC on April 1, 2020, under his sponsor Eric Caprarese:
"Me and Eric really see the chance to go global with TLC because we already have international teams all around the world that we've been building for over ten years, and we want to take TLC around the globe."
Larry's why with TLC is to help his family financially and help out the teams that he has networked with through his years at One World Network (OWN). He believes TLC is an excellent choice for his community because of the phenomenal compensation plan, the Daily Pay option, and the products. He has already lost about 7 lbs by taking the Iaso® brewed tea for 14 days and says the product is phenomenal.
Larry says the culture of TLC is very welcoming and has a family feel:
"I really feel like it's a family, the culture is all about helping people and getting healthy, and I think that message its what the world needs right now. We all need to come together, and we need to help people financially. They check all the right boxes at TLC."
For Larry, the leadership is what makes a big difference at TLC, compared to his other network marketing experiences. He says the business resources are readily available for distributors, and the mobile app also makes it easy for the distributor to get products out to customers and become successful in this company. In the short term, Larry wants to make sure all of his teams are active and continuing to change lives.  In the long term, Larry wants to build a strong team that he can have committed to TLC's mission for as long as possible.
Larry says that TLC's Daily Pay is timely because there are a lot of people struggling to make money during the global pandemic.
"Being able to sell a product on Monday and get some money on Tuesday to pay that bill. That gives people a drive and gives them the option to make money at home. With TLC, you can make your own family's stimulus package, so give TLC a chance, because you can take your career into your own hands."
Larry says the combination of Eric Caprarese, Jack Fallon, and John Licari will help elevate him and his teams and bring everyone success:
"I've known Jack for 15 years, he's got such a great reputation, and I've known Eric Caprarese for 10, and I'm very excited to work with these two guys, and John Licari too. And with what we all can bring to the table, were going to be a great asset to TLC because we have a lot of people around the world who want their support and guidance, and of course the products as well."
About Total Life Changes
Total Life Changes (TLC) is a direct selling company offering a diverse product portfolio of health and wellness products. Founder and Chief Executive Officer Jack Fallon created TLC 16 years ago with a single product: NutraBurst®.  Since that time, TLC has continued to develop weight loss and wellness products matched with an attractive hybrid binary compensation plan.
This allows Life Changers of TLC to be rewarded quickly for introducing new customers to its products and business opportunity. Find out why so many are saying, 'It really is different over here.
Recommended Distributors Total Life Changes