Maniya Canty Advances To Regional Director Rank With Total Life Changes
April 1, 2020
By Nicole Dunkley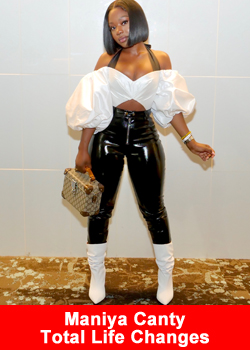 Maniya Canty initially was interested in Total Life Changes (TLC) in 2017, because her mom, esteemed "Coach" and Executive Ambassador Stormy Wellington, encouraged her to join. But she saw more potential in TLC and knew that there was something special about this company:
"It took time for me to watch and see what this company was about and how it changed people's lives. I had to get to a point of maturity and realization that there is nothing better I could be doing than being a part of Total Life Changes."
Maniya then officially became an independent distributor, which TLC refers to as a Life Changer, in September of 2019. Her mother, Stormy Wellington, is her sponsor, and Maniya is always observing her business etiquette and TLC values, which allows her to have a broad perspective on the TLC market and products. Maniya initially put a lot of pressure on herself to gather her two teammates to become binary qualified when she launched her business. But she says it was fun as well as a challenge, and with her mentors, Stormy and Nathalie Nicole Smith, she has pushed herself further than ever before.
Maniya says her main reason for joining TLC is because she wants to show her generation of millennials that TLC is an excellent company with ground-breaking products. Her overreaching mission is to help them to change their lives, their health, and run their business on their own terms.
Maniya believes in being a product of the products and uses the full-spectrum hemp infused Instant Iaso® Tea and NutraBurst®. After struggling with acne and trying a slew of dermatologist recommendations and skincare products, the Hemp Tea allowed her to cleanse her system, lose 15 lbs. and also rid herself of acne, which gave her newfound confidence. The liquid multivitamin NutraBurst allowed her to feel a better sense of wellbeing and health as well because before using it, she never took multivitamins.
Seeing TLC's culture evolve from over 4 years ago, when her mother started in the business, has shown Maniya how versatile this company is, and says now is the best time for millennials to join this energy:
"TLC's culture is fun; you're able to be yourself. It's open arms for anybody. Anyone can come and be a part of this and be accepted. If you're a college student, if you work a 9 to 5, anyone is welcome. And I love that."
Maniya's short term goals at TLC include reaching National Director rank next, which is a big leap for her. But she plans to expand her team and work more closely with them, as she grows in tandem with them. In the long term, Maniya wants to become an Ambassador so that she can continue to change lives every day:
"That is going to require even more of me, and I just want to keep growing with the company. I feel like this company is really all about a total life change. So I want to be able to grow as a woman and grow in my position. I just want to keep growing and loving myself, and watch other people doing the same with my help."
About Total Life Changes
Total Life Changes (TLC) is a direct selling company offering a diverse product portfolio of health and wellness products. Founder and Chief Executive Officer Jack Fallon created TLC 16 years ago with a single product: NutraBurst®.  Since that time, TLC has continued to develop weight loss and wellness products matched with an attractive hybrid binary compensation plan.
This allows Life Changers of TLC to be rewarded quickly for introducing new customers to its products and business opportunity. Find out why so many are saying, 'It really is different over here.' For more information, please visit www.totallifechanges.com
Recommended Distributors Total Life Changes