Touchstone Essentials Announces Free Enrollment
April 4, 2020
By Team Business For Home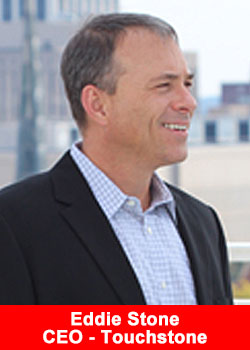 Touchstone Essentials was born in 2012 with a commitment to sharing clean whole-food supplements to the world, and at a time when the world needs it most, they haven't missed a beat. Founder and CEO, Eddie Stone, expressed a great deal of gratitude for the company's ability to make a continued and relevant contribution throughout the current crisis.
"We are thankful that as an essential service we can continue to deliver whole-food goodness to our customers and support immune health. Now more than ever, we need to be vigilant about supporting our body's own natural ability to defend itself."
At a time when unemployment is skyrocketing more each day, Eddie says it goes beyond health. With a business opportunity that can be done online, from anywhere in the world, paid weekly via direct deposit, Touchstone Essentials doesn't just offer support, they offer a lifeline. Eddie confirms,
"It's truly important to recognize the health aspect of what we do, but it's also important to recognize that we're making an economic contribution. People need help now, not a month from now. We have something they can do right now that will make a real difference."
The urgent need for both health and financial support has boosted an already-growing demand, and with business having doubled in 2020, Touchstone Essentials was already ramping up for exponential growth.
"We're grateful not only for our continued growth, but for our ability to fulfill it. We were already prepared to massively scale the business, but we never would have been able to handle this unprecedented surge in global demand without our existing business model."  
Because of the way their operations are set up, Eddie says they've experienced very little disruption in their day-to-day efforts.
"Our ingredients are primarily sourced from within the US and are not impacted by international supply chain delays, our systems are cloud-based, our team is 100% remote and our online store allows anyone to order from the comfort of their home and have our organic goodness delivered right to their door."
Above everything else, Eddie says he is most grateful for the passionate group of people who have dedicated themselves to sharing this lifeline. To further empower Visionary Business Owners, or VBOs, and help as many families as possible during this time, Touchstone Essentials is waiving the annual VBO membership cost for both new and existing customers for the entire month of April.
In a recent video communication, Eddie shared a heartfelt message,
"From the internal team and external partners to the customers and VBOs, I'm so heartened to see how our community has responded throughout this difficult time, sharing stories on social media, and helping others to support their physical and financial health. You inspire us, and I'm proud to partner with you. We're all in this together."
About Touchstone Essentials
Touchstone Essentials was founded in 2012 by 30-year industry veteran, Eddie Stone, with a vision of organic goodness accessible to everyone. They ship to over 60 countries around the world. Touchstone Essentials has been experiencing double-digit growth over the past 3 years and with the launch in of the organic CBD hemp oil line, things have started reaching critical mass. They describe themselves as proud rebels with a cause, offering products for Daily Detox, Organic Superfoods, and CBD.
When you join as a VBO, you become a visionary business owner. As a VBO, you're the CEO of your own empire, but you're not alone. Touchstone Essentials offers an advanced digital marketing system with a trove of resources, all at no additional cost. This includes a TheGoodInside.com e-commerce site, blog, and e-newsletters, social media retargeting and more. For more information please visit www.thegoodinside.com
Recommended Distributors Touchstone Essentials