Garine Dalce Reaches Global Rank And Fuels Her Passion With Total Life Changes
May 28, 2020
By Nicole Dunkley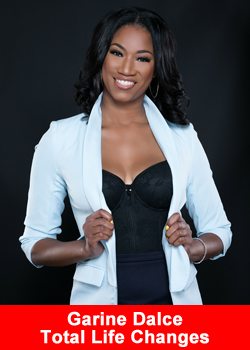 Boston born Garine Dalce is of Haitian descendent and wanted to prove that she could achieve her goals and make her family proud. Her sponsor, Nathalie Nicole Smith, reached out to her and offered her Iaso® Tea, and this helped her lose 6 lbs. in one week. She saw that there was an opportunity to become a Life Changer and sell the tea herself, but also as a social worker, she saw much more potential in Nathalie as well:
"My former job, I was the deputy director for the juvenile justice system in Washington, D.C., and I was at a conference. And Nathalie was there, she told me she had a nonprofit for girls who are high risk, and I thought wow, we could use her in D.C. to help with the young girls who need to be rehabilitated."
Garine's why is simple; at first, she saw TLC as a business opportunity, and she knew that the products really worked. But her why changed after she was in the business for a while, and becoming a team was integral to this change:
"My vision completely changed when I met everyone else on my team, and my why changed. And I'm involved with a company that helps people become the best versions of themselves. People that come to TLC, yes they come for the products, but they may have other emotional struggles going on. And they come to me with their issues, and I help them get over them before they get to the next level, and that's powerful."
Garine says her favorite product is NutraBurst because it helped her with her anemia and energy levels. She also says that her sister was initially skeptical of the products, but when she tried the Iaso® tea and saw the results, losing 30 lbs. total, she was instantly convinced, and soon became a Life Changer too.
Garine states that TLC's culture is integrity-based and ethical, and the culture is focused on helping others. It allows her to prove to others that TLC is real and can help you achieve your goals and be able to do more for you and your family.
"I remember a time when I worried about paying my children's daycare or worrying about their tuition. I don't have to think about that now, and I'm in control of my destiny with God. I want to help as many families as possible so that they, too, can be in a position to be free."
About Total Life Changes
Total Life Changes (TLC) is a direct selling company offering a diverse product portfolio of health and wellness products. Founder and Chief Executive Officer Jack Fallon created TLC 16 years ago with a single product: NutraBurst®.  Since that time, TLC has continued to develop weight loss and wellness products matched with an attractive hybrid binary compensation plan.
This allows Life Changers of TLC to be rewarded quickly for introducing new customers to its products and business opportunity. Find out why so many are saying, 'It really is different over here.' For more information, please visit www.totallifechanges.com
Recommended Distributors Total Life Changes