Great Life Joins Forces With Total Life Changes
May 12, 2020
By Nicole Dunkley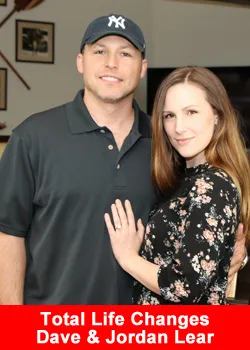 Maryland natives Dave and Jordan Lear have been in the multi-level marketing field for a very long time and started their own company, Great Life, in 2018.
"We've had a loyal customer base that loved what we have, and over the course of the year, we changed some things because we want to give people the best of the best. And the reason that we looked at Total Life Changes was that our vision is the same. We want to provide people with more, like a sampling system and more products, that has always been our goal."
Jordan sees similarities within the type of products and says that the product range is more extensive than Great Life's, and will be a great benefit to the customers. TLC's longevity and compensation plan are also what drew the couple in:
"The biggest difference between our company and TLC right now, is people in the health and wellness industry want a well-established company. And we see that in people when we are speaking to them, we hear that in their voices when we make sales calls, and they want something that is going to be there in the long term."
Jordan also says that TLC's global reach will expand their customer base more than ever before. She also says that the array of products is a significant benefit as well, and she has tried the Delgada® coffee and says within an hour she enjoyed the effects of the Citrus Aurantium (bitter orange), and says she loves that she can instantly feel the product working. Her husband has also tried one of the products, and she raves about his excitement when trying the Iaso® Tea:
"We both tried the Iaso® Tea. And I feel like I've got a bundle of energy, and Dave says he feels skinny already, and I told him 'Dave it's been one day!' But I feel that too. He says he didn't expect to feel something so quickly."
Jordan says that TLC was everything they have been looking for in a company. She emphasizes that CEO Jack Fallon is genuinely a great leader:
"There is a true thread that runs through people who believe in doing the right thing first. And that's something that we will not waiver on and having leadership and owners that believe in the same thing. We have the same moral compass, and we believe we can do great things if we do the right thing, and not the easy thing, then everything else will fall into place."
About Total Life Changes
Total Life Changes (TLC) is a direct selling company offering a diverse product portfolio of health and wellness products. Founder and Chief Executive Officer Jack Fallon created TLC 16 years ago with a single product: NutraBurst®.  Since that time, TLC has continued to develop weight loss and wellness products matched with an attractive hybrid binary compensation plan.
This allows Life Changers of TLC to be rewarded quickly for introducing new customers to its products and business opportunity. Find out why so many are saying, 'It really is different over here.' For more information, please visit www.totallifechanges.com
Recommended Distributors Total Life Changes