LaCresha Readoux Highlights Her Journey With Total Life Changes
May 22, 2020
By Nicole Dunkley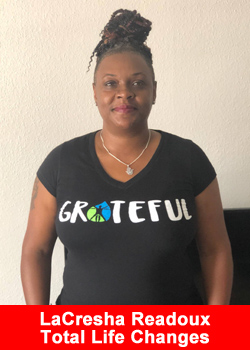 Chicago born LaCresha Readoux started exploring Total Life Changes' products in early 2018, and as a massage therapist concerned with health and wellness, she saw potential in them. She soon became a Life Changer in May of 2018 under her sponsor Phillip Birchfield, and her mentors, Angela and Darryl Jackson, had introduced her to the products.
"The fact that you feel a difference with the products, and the way Darryl introduced me to it, I could tell when I drank the Iaso tea, and when I didn't drink it. Anything that is encouraging people to become better individuals, and work on themselves with products without needing a routine is something that I love."
LaCresha says her entire family enjoys the products. She also says that BlossoMé (a women's dietary supplement) has helped her balance her mood and helped her have fewer night sweats. Even her 24-year-old son, who is studying culinary arts, enjoys the NRG supplement and the NutraBurst as well. He became a Life Changer so he can become financially stable and pursue his goal of owning a food truck.
LaCresha says Angela Jackson's transformation most inspired her:
"I went to church with her, and we were good friends before TLC. So, I know what her body mass looked like before and what she looked like after, that's what solidified it for me. And she sent me her pictures, and to watch how she transformed was what convinced me."
LaCresha says that TLC's culture is just full of love, and everyone does love each other period. TLC allows LaCresha to help everyone achieve their health goals, including her wife and mother. Harmony Drops have helped her wife manage her neuropathy pain, and the products have also helped her mom to get off some of her medications.
In the long term, LaCresha wants to continue to be a living testimony of the TLC products, and she encourages others to work on themselves. She loves Jack Fallon's vision for TLC and wants to continue to grow and help others to become better individuals overall.
About Total Life Changes
Total Life Changes (TLC) is a direct selling company offering a diverse product portfolio of health and wellness products. Founder and Chief Executive Officer Jack Fallon created TLC 16 years ago with a single product: NutraBurst®.  Since that time, TLC has continued to develop weight loss and wellness products matched with an attractive hybrid binary compensation plan.
This allows Life Changers of TLC to be rewarded quickly for introducing new customers to its products and business opportunity. Find out why so many are saying, 'It really is different over here.' For more information, please visit www.totallifechanges.com
Recommended Distributors Total Life Changes