Lawrence Villegas Achieves Regional Director Rank At Touchstone Essentials
May 29, 2020
By Team Business For Home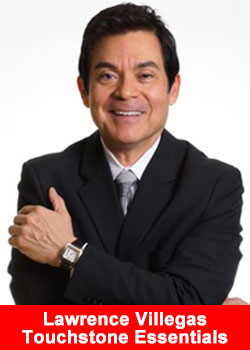 For someone with decades of experience leading in network marketing, plant-based nutrition and zeolite, Lawrence Villegas was destined to become a trailblazer with Touchstone Essentials. In a remarkably short amount of time he's advanced to Regional Director.
According to Lawrence, the innovative compensation plan is designed to reward you quickly in nine different ways, just by doing the right activities. If you're willing to put in the time, you can see real earning potential. A better plan is when we make the dreams of those we serve come true.
"Touchstone Essentials' compensation plan is the best in the industry because it pays handsomely on customer acquisition. It's brilliant and sustainable.

Not everyone has my goal of changing the culture for the better and at the same time creating a sustainable income. But I believe that the beauty of Touchstone Essentials is that anyone who wants to earn a six-figure income can with the systems and platform that we have to offer."
 Lawrence has been solely focused on building a Pure Body and Pure Body Extra Strength customer base in order to create lasting, leveraged income, and says he's been blown away by how quickly he's been able to grow. According to Lawrence, Eddie Stone, the founder and CEO of Touchstone Essentials has created the perfect business model platform.
"I kept thinking what a blessing this is, that Eddie Stone is the real deal. When you base your business on better products with better outcomes for customers, you have something truly sustainable."
 According to Lawrence, the most important difference between Touchstone Essentials and so many other companies is that it is truly a customer-centered model, which is reflected in the thousands of consumers' five-star reviews.
"Your best distributors will come from your customers who've gotten incredible results. It's better to foster satisfied customers and have them choose to be distributors. These are the people that trust, believe and promote our products."
Now more than ever, people need better products that support their health and wellness, and now more than ever, people need to supplement or to replace an income that could be more viable in the current economic climate. According to Lawrence, Touchstone Essentials is a lifeline that appeals to a specific type of customer and marketer.
"When I first met Eddie, he said, 'We want to make things better by making better things.' The impact he wants to make in both the nutrition and network marketing industries is significant, and we need it now more than ever."
About Touchstone Essentials
Touchstone Essentials was founded in 2012 by 30-year industry veteran, Eddie Stone, with a vision of organic goodness accessible to everyone. They ship to over 60 countries around the world. Touchstone Essentials has been experiencing double-digit growth over the past 3 years and with the launch of the organic CBD hemp oil line, things have started reaching critical mass.
They describe themselves as proud rebels with a cause, offering products for Daily Detox, Organic Superfoods, and CBD. When you join as a VBO, you become a visionary business owner. As a VBO, you're the CEO of your own empire, but you're not alone. Touchstone Essentials offers an advanced digital marketing system with a trove of resources, all at no additional cost. This includes a TheGoodInside.com e-commerce site, blog, and e-newsletters, social media retargeting and more. For more information please visit www.thegoodinside.com
Recommended Distributors Touchstone Essentials