Lovely Bryant Achieves National Rank at TLC
May 8, 2020
By Team Business For Home International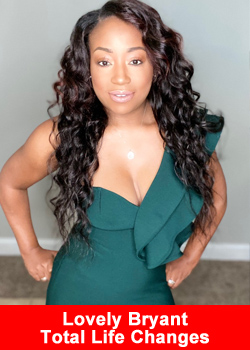 Lovely Bryant started as a system administrator in Cummings, Georgia. But when she went on maternity leave, she realized she wanted to have a job to fall back on. But she soon realized that TLC was truly her calling and made it her full-time career in September 2019.
Lovely had followed Sharmeeka Brooks on social media prior to her joining TLC and knew she resonated with her on a personal level:
"I knew her from following her on Instagram, and so I knew what type of person she was. I knew she was just more than an influencer. That's what made me interested in TLC because I saw the Full Spectrum Hemp Iaso® Tea had helped clear up her skin issues. So when she was on Instagram talking about the business opportunity of TLC, that convinced me to join."
She says her biggest challenge was making people believe in the product. But once her customers and coworkers tried the Iaso Tea®, she had faith that it worked, and this helped her gain a loyal customer base. She has many team members with fantastic transformation stories:
"One of my team members who joined in January started drinking the Iaso Tea® and lost over 10 lbs. And since then, she started a 90-day challenge, and she's transformed herself. She is now teaching her family how to eat healthily and take care of their bodies."
Lovely says she started drinking NutraBurst®, and then followed with the Iaso Teas, and says she loves all of them and mixes them as well. She also enjoys the Resolution Drops and Life Drops.
Lovely says TLC has allowed her and her family to be less stressed about finances, which enables her to be more focused on changes in other's lives as a result. She says in the short term, she is going to aim for Global Ambassador rank and generally build her business and gather more Life Changers by networking. In the long term, she wants to stick with TLC as long as possible and says it has completely changed her life for the better.
She gives her thanks to Jack Fallon, and the corporate staff and says that she is grateful for them:
"Thank you to Mr. Jack Fallon, Mr. John Licari, as well as Rosa Armenta and customer service for all that they do. Keeping up with our growth as a company is important, and I just want to say thank you for their hard work."
About Total Life Changes
Total Life Changes (TLC) is a direct selling company offering a diverse product portfolio of health and wellness products. Founder and Chief Executive Officer Jack Fallon created TLC 16 years ago with a single product: NutraBurst®.  Since that time, TLC has continued to develop weight loss and wellness products matched with an attractive hybrid binary compensation plan.
This allows Life Changers of TLC to be rewarded quickly for introducing new customers to its products and business opportunity. Find out why so many are saying, 'It really is different over here.' For more information, please visit www.totallifechanges.com
Recommended Distributors Total Life Changes