Tewonia Frank Hits National Rank
May 26, 2020
By Nicole Dunkley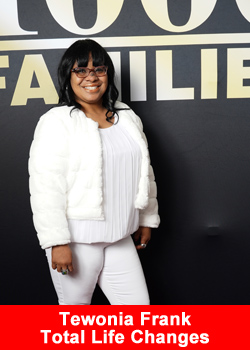 Detroit native Tewonia Frank is a staple at TLCHQ; she can always be seen buying more TLC products at the receptionist's front desk at its headquarters. Her sponsor, Stormy Wellington, sealed the deal for her, and she joined Total Life Changes (TLC) in December of 2014.
Ever since that date, she has been working hard to reach National rank, which she achieved on March 12, 2020. Tewonia has humble beginnings with TLC, starting with only $100 and an optimistic headspace:
"Basically, I put that money towards ten bags of Iaso® tea, and when I got it in my hand, I sold it all in the first day. That was a big win for me, and I took that money, and I reinvested it into my business."
She says that her why with TLC is simple; she wanted a new start and wanted to give her kids more. Prior to TLC, she had a career in computer sciences and had a taste of what network marketing had to offer. When she moved back to Detroit from Maryland after living there for 14 years, she decided that it was a stable way to make an income and joined TLC full time. TLC allowed her to be home with her kids and not have them in daycare:
"My youngest has never seen daycare. My other 3 children have always been in daycare, because even though I worked in corporate America, and so did my ex-husband. And I moved back here, and TLC let me stay home with my youngest daughter."
Tewonia says that her favorite TLC products are Iaso® Tea, Instant Iaso® Tea with Full Spectrum Hemp, Techui and Resolution Drops. This combination of products has allowed her to lose 37 lbs. with continued use, and has made her feel healthier and more energetic as well. She recalls a moment where she truly knew just how much she had lost, and she noticed her work had paid off:
"Last year at an International event, I was honored to receive my lifetime earnings $250k ring. We had to place the order for that ring before I had lost the weight, and so Rosa sized me for the ring in the office. And by the time the ring came, my ring was too big. So that was great!"
Tewonia says that TLC's family culture is what makes it different from any other company. And she loves coming into TLCHQ and talk to CEO Jack Fallon and COO John Licari in person and says it makes her feel welcomed.
TLC has allowed Tewonia to become financially stable, and she has been able to buy a bigger house so that she could move her mother and father in to live with her after his heart attack and stroke. She says her short term goal is become a Global Director, and in the long term, she hopes to become a Executive Ambassador with TLC.
About Total Life Changes
Total Life Changes (TLC) is a direct selling company offering a diverse product portfolio of health and wellness products. Founder and Chief Executive Officer Jack Fallon created TLC 16 years ago with a single product: NutraBurst®.  Since that time, TLC has continued to develop weight loss and wellness products matched with an attractive hybrid binary compensation plan.
This allows Life Changers of TLC to be rewarded quickly for introducing new customers to its products and business opportunity. Find out why so many are saying, 'It really is different over here.' For more information, please visit www.totallifechanges.com
Recommended Distributors Total Life Changes