MLM Leader Ankur Jain From India Joins QuiAri
June 10, 2020
By Team Business For Home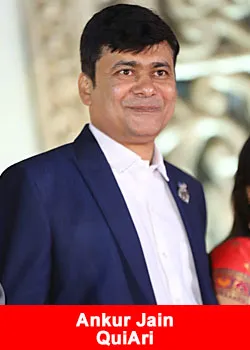 Ankur Jain from Shajapur, M.P., India isone of the premier QuiAri Promoters in India and also the Principal and Owner of a large secondary school.
"Education is my passion, but it's not my only passion. I've been in the MLM industry for 9 years and absolutely love it. I consider myself an entrepreneur in the business of helping people.

As a Principal, I am responsible for the well-being of over 1,000 children. As a QuiAri Promoter, I have an opportunity to help their families live healthier lives and earn extra income,"
said QuiAri Promoter Ankur Jain.
Ankur is following his personal commitment to health and higher education. He holds a Bachelors of Engineering in Electronics and Telecommunication, a Bachelors of Education, and a Master's degree in English Literature. Clearly there is no shortage of opportunities for him to earn extra money. He chose QuiAri because he believes in the products, the leadership, and the direction the company is headed.
"As a businessman and educator, I'm always looking for opportunities with the maximum amount of potential. I've analyzed QuiAri's products, their compensation plan, and their global expansion plans. This is the best opportunity in the industry with the most potential to help bring real change to the health and wealth of Indian families.

Talk to any QuiAri Promoter and you can feel their energy and excitement when they talk about the products. Excited people only lead to more excited people, which leads to multi-billion dollar growth potential," said Ankur Jain.
QuiAri's revolutionary products are accompanied by an equally revolutionary compensation plan – the fastest paying and the fastest cycling binary in the industry. It also happens to have one of the highest payouts.
"QuiAri's compensation plan is unique in that it pays Promoters commissions in just 5 minutes with Same Day Pay and has generous bonuses baked in to help people earn faster. No one else in the health and wellness industry pays people this quickly. If you are driven to succeed, the QuiAri opportunity can get lucrative very quickly. Success is handsomely rewarded," said Ankur Jain.
Founder and CEO, Bob Reina started QuiAri with the intention to create the most powerful products in the entire industry. He collaborated with the #1 maqui berry scientist in the world to create a proprietary MaquiX® extract and took months developing a shake mix that didn't taste gritty or sandy.
" Promoters like Ankur are having such phenomenal success with QuiAri because our products taste great, really work, and people are eager to share them with others. We've had nothing but positive feedback from Customers and Promoters stating how wonderful the QuiAri Shake tastes and how the products make them feel. There's no doubt that once they start taking the products and experiencing results, they can't imagine their lives without them,"
stated Founder and CEO, Bob Reina.
Ankur just started the 90-Day Kickstart Challenge and has already lost 4 pounds. He agrees with Bob in that having superior products everyone loves makes it easier to promote.
"My confidence is through the roof in presentations and tasting parties. Bob and the executive leadership team have provided us with everything we need to be successful. State-of-the-art Back Office and mobile app, world-class marketing, social media support, Same Day Pay, and more. I can't say enough great things about this company. I have always believed that the greatest gift you can give someone is the gift of health. QuiAri is Bob's gift to the world. I'm just one of the lucky ones that has the opportunity to share it,"
said Ankur Jain.
About QuiAri
QuiAri provides life-changing opportunities that empower people to feel their best so they can live their best. Their breakthrough health and wellness products are made from an exclusive extract of the maqui berry, the world's new number 1 superfruit. Plus, QuiAri offers opportunities to receive Same Day Pay just by sharing their products with others. Try. Love. Share!
To learn more about QuiAri, or to get in touch with a Promoter, visit QuiAri.com.
These statements have not been evaluated by the Food and Drug Administration. These products are not intended to diagnose, treat, cure or prevent any disease.
Income Disclosure Statement
Please note the QuiAri business opportunity offers unlimited income potential. However, QuiAri makes no guarantee of financial success. Success with QuiAri results only from successful sales efforts, which require hard work, diligence, skill, persistence, competence, and leadership. Your income will depend upon how well you exercise these qualities.
 As QuiAri is in its first year of business operations, we do not have sufficient statistical data to prepare complete, first-year income disclosures. A more detailed survey will be conducted after our first year of business. If income projections were presented to you prior to your enrollment, such projections are not representative of the income, if any, that you can or will earn through your participation in the QuiAri Compensation Plan.
Recommended Distributors QuiAri