Nathalie Nicole Smith Achieves Even More with TLC
June 2, 2020
By Nicole Dunkley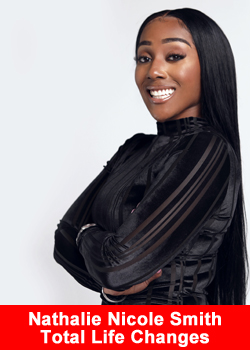 Nathalie Nicole Smith continues to reach higher at Total Life Changes (TLC) and says that the key to being consistent with her team is having a formula for their success:
"We have a director's challenge, and we keep everyone accountable every day. I have two calls a day with my team, and we have a director formula that encourages them to earn 143 points a day from retail sales and team orders. And that formula has produced over 1000 directors in the last 60 days."
Nathalie says that her success is very spiritual, and she had to cast belief in herself and also trust others to hold the same beliefs. She has written books, including her newest one, "Becoming a Brand," and also hosts a podcast called "Believe, Brand and Build," where she interviews other successful network marketers. She says she believes in keeping up with personal development and listens to around five motivational audiobooks per week.
Nathalie says her sponsor, Stormy Wellington, is aligned with her personal vision. She says its key to have a good connection with your sponsor. She says that Life Changers usually develop their brand and image by National Rank, but her sponsor has always been there to help and support her brand. She highlights one of her team members personal success stories, and how TLC changed her life:
"Bianca Shadai was a mom who barely had a place to live. And she came over to TLC and now has a place to live for her and her son, and it changed her life."
Nathalie also has her online organization called Women Who Boss, and it allows women to connect with each other and grow, as well as work on their personal development and spiritual growth. She says she has personally sponsored over 1,000 women and says it has been a blessing:
"I've had women who wanted to commit suicide, but I encourage them to come on board and teach them how to believe in themselves and transform their bodies and get excited about life, and these stories will never stop. I'm happy with this community and culture."
About Total Life Changes
Total Life Changes (TLC) is a direct selling company offering a diverse product portfolio of health and wellness products. Founder and Chief Executive Officer Jack Fallon created TLC 16 years ago with a single product: NutraBurst®.  Since that time, TLC has continued to develop weight loss and wellness products matched with an attractive hybrid binary compensation plan.
This allows Life Changers of TLC to be rewarded quickly for introducing new customers to its products and business opportunity. Find out why so many are saying, 'It really is different over here.' For more information, please visit www.totallifechanges.com
Recommended Distributors Total Life Changes