TLC's Generosity Reaches Many
June 11, 2020
By Nicole Dunkley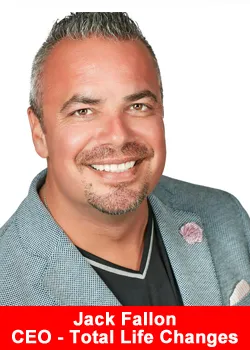 Total Life Changes (TLC) continues to give even more during these uncertain times. Recently they have been giving away $500 to random Life Changers, who are independent business owners, during their Facebook broadcast, Jack and John Live. They also personally match the $500 and give that money to the charity that the Life Changer chooses; plus an additional $200 to a family in need.
Sylvester Davis III was one of the giveaway winners and says that TLC means a lot to him and his family, and emphasizes that love and hope can be felt worldwide.  Sylvester Davis chose to bless a few people with NutraBurst and blessed Ricky Stone with money for groceries. He also sponsored a high school boy through the Raising Hope Foundation, donating $500 towards his college scholarship. Sylvester says this young man is driven and will go above and beyond to achieve his goals:
"God willing, everything will work out, and he can be a starter. He plays basketball and is into music, and he expected to do more than what's expected."
Sylvester says that he is forever grateful for TLC, and CEO Jack Fallon and COO John Licari, and says that the company is making a difference:
"People identify with you and connect with you, and when I met Jack and John, they are humble people, it's like talking to a friend. I have nothing but love for TLC, and they keep doing even more. They've got me for life. From top to bottom, I love TLC. They are making a difference in my life and in the world as well."
Another giveaway winner, Lisa Miller, says that she sees TLC as more than a company; she sees a family-based company where she can connect with the community. It brought her out of a dark time when she dealt with depression back in November 2019, and the TLC products helped her feel more energetic.
Lisa says that TLC has allowed her to work independently and share her story, as well as improve her and other people's health. She chose NAMI, which is the National Alliance on Mental Illness, as her charity, because it is something she can relate to, and she wants others to be able to get mental health services and support:
"I welcome people in to talk, and I believe we all have therapy in us when we care about people. And when I was looking for a charity, I wanted something I can relate to, and when I went on the website, that's the first charity I saw, and I knew that's what I wanted to choose."
Lisa says that TLC's culture is welcoming to everybody, and she says that TLCHQ is truly open to everybody, and she is grateful for the positive energy and love.
Giving back is truly a staple in the TLC community, and especially during this time, giving back is almost a necessity. Whether it be giving to a family, friend, or an organization, it is a selfless act that can bring joy and positivity to someone's life, and that is key to a healthy and happy lifestyle. TLC truly lives up to one of its core values, "Our standard is giving more than what's expected."
About Total Life Changes
Total Life Changes (TLC) is a direct selling company offering a diverse product portfolio of health and wellness products. Founder and Chief Executive Officer Jack Fallon created TLC 16 years ago with a single product: NutraBurst®.  Since that time, TLC has continued to develop weight loss and wellness products matched with an attractive hybrid binary compensation plan.
This allows Life Changers of TLC to be rewarded quickly for introducing new customers to its products and business opportunity. Find out why so many are saying, 'It really is different over here.' For more information, please visit www.totallifechanges.com
Recommended Distributors Total Life Changes