Healy Terminates Master Distributor and Former CEO Dirc Zahlmann
July 15, 2020
By Team Business For Home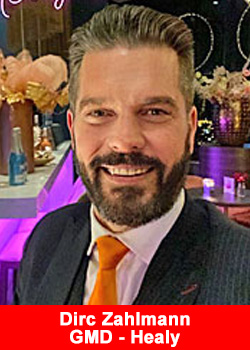 In May 2020, Top producer and former CEO Dirc Zahlmann was named as Global Master Distributor.
Zahlmann was very important at the start of Healy and beloved in the fast growing worldwide teams. In a rather short message to the field the new CEO Andreas Kornberger stated:
"Dear Healy World Members, ladies and gentlemen,

With this letter we wish to inform you that Healy World GmbH is terminating its cooperation with Mr. Dirc Zahlmann, effective immediately.

Thus with immediate effect Mr. Dirc Zahlmann is no longer active as a Master Distributor or in any other way for Healy World GmbH."
Team Business For Home reached out to Dirc Zahlmann and he stated:
"I do not agree at all with this termination".
About Healy
Healy is the leading provider of wearable wellness technology for the Direct Selling Industry.
Healy is a subsidiary of the internationally operating TimeWaver group. Our common vision is that all people should have the opportunity to live a holistically healthy life. Utilizing Information Field technology, over 2,000 doctors, practitioners and other therapists have used the frequency therapy of the Healy and TimeWaver systems. For more information visit www.healyworld.net
Notice: Healy is a microcurrent medical device that has been cleared by the U.S. Food and Drug Administration for local relief of acute, chronic, and arthritis pain and muscle soreness due to overexertion. Healy also has non-medical applications that use individualized frequencies to help balance your mind and body and relieve stress. Always use your Healy in accordance with its Instructions for Use.
For more information please visit: www.healyworld.net
Recommended Distributors Healy World