Khadijah And Cordell Williams Celebrate National Rank and Five-Year Anniversary With TLC
July 12, 2020
By Nicole Dunkley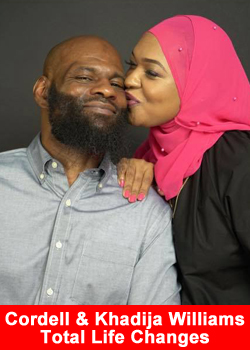 Cordell and Khadijah Williams joined Total Life Changes (TLC) in June 2015. His mother-in-law gave him two packs of the Iaso Tea, and his wife Khadijah tried it with great success. His sister in law and TLC Ambassador Denise Lee then encouraged them to join as Life Changers.
Although she started with the tea, Khadijah's favorite product today is the Resolution Drops, and her testimony is super strong:
"I initially lost 27 lbs. with the Iaso® Tea Original, and it's my favorite thing. Then I added the NutraBurst, Resolution Drops, and the Delgada coffee, and I lost a total of 66 lbs.* I love the products, and I have to try every product that they release."
Cordell says that TLC has truly been a family affair for him. It allows him to spend more time with his family and get them involved in the energy:
"My daughter, who is 30, and is a single mother of 2, she is in the business. They have been able to do things that they have never done before joining Total Life Changes, like spend more time and go on vacations. I've been able to spend more time with my granddaughter. I do not have to tell them no for anything; I can tell them yes now. My son, my daughter, my daughter-in-law, they've also been able to better their health."
Cordell says that his mother loves the Iaso® Tea, and gets it delivered every month using automatic SmartShip. Even his grandmother-in-law loves the NutraBurst, and the whole family has benefitted from the products. Cordell's favorite products are the NutraBurst and Iaso® Tea with Full Spectrum Hemp:
"NutraBurst has been able to give me that peak energy in the morning. It gives me the energy I need, the vitamins, and I'm getting a full spectrum of vegetables. And the tea is keeping me fit, my stomach is flat, and I eliminate waste too. It helps me not eat bread and sugar; it has changed my palate; I don't crave that anymore."*
Cordell says that TLC's culture is generous, giving, and feels like family. All seven core values shine through in TLC's community and everything they do. It allows him to offer others a better quality of life that will enable them to achieve more goals and do more with their lives than they could ever imagine. Khadijah says that she is proud to represent the Muslim community at TLC and wants to show other Muslims that they will be welcomed with open arms.
In the long term, the couple wants to hit executive ambassador rank and continue to help others, reaching 100 families and impacting even more families. Cordell sums up his time at TLC by thanking the leadership for their support and guidance:
"The leadership that we have in this organization truly wants to help other people, selflessly. And that includes Executive Ambassador Twiler Portis, Jack and John and everyone at corporate. My wife and I want to thank the leadership for their amazing support."
About Total Life Changes
Total Life Changes (TLC) is a direct selling company offering a diverse product portfolio of health and wellness products. Founder and Chief Executive Officer Jack Fallon created TLC 16 years ago with a single product: NutraBurst®.  Since that time, TLC has continued to develop weight loss and wellness products matched with an attractive hybrid binary compensation plan.
This allows Life Changers of TLC to be rewarded quickly for introducing new customers to its products and business opportunity. Find out why so many are saying, 'It really is different over here.'
Recommended Distributors Total Life Changes