Cellements Temporarily Closed For Business, Blaming Software Provider Naxum
August 28, 2020
By Team Business For Home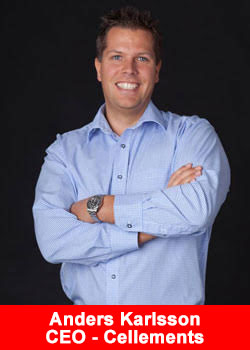 Anders Karlsson, CEO and founder of Sweden based Cellements stated:
We are sad to announce that Cellements is forced to temporarily shut down all business related activities due to our new software provider, Naxum, not being able to live up to their promise and deliver a functional platform – that was paid in full by Cellements.
In spite of extensive efforts on Cellements part, including; offering a full brief of feature requests, supplying all necessary information, raising early concerns, offers to help, and comprehensive bug tracking, all of the experts we consulted conclude that we cannot continue to pursue this line any longer.
Especially since Naxum CEO, Ben Dixon, insists they demand full monthly payments for a non-functional software, or they will shut the software down.
Words cannot express how we feel at Cellements HQ. We are in the midst of a global outbreak, with a product that stands head and shoulder above all regarding hand hygiene. Demand is at an all time high all over the globe. To top it off, we have unprecedented demand for home based business opportunities worldwide.
All we need is software that is functional and customer friendly. And we needed it yesterday. All this was conveyed clearly to Ben Dixon, at Naxum, 2019. Promises were made. We paid in full. And we were lied to.
What went wrong?
We started looking for options for a more customer friendly software platform 2019. We decided through recommendations to choose Naxum, after they responded positively to all of our software demands. Then it started. As our partners know, everything was delayed. Again and again. For months and months. After delaying the final deadline with another 3 months, Naxum cleared for launch.
Hopes were high. We were excited. At first. We expected issues, but what followed at closer inspection was beyond absurd.
Transactions didn't work.
Autoships didn't work
Password recovery didn't work, so partners couldn't get access.
Shop couldn't handle currencies
Shop couldn't track users accurately
Receipts didn't show the correct currency
There was no cohesive branding
Software email messages contain other brand names.
And it all looked like a generic, old shop template that did not even have consistent styling. Where ever we looked, there were nothing but issues. Worst of all, when something was "fixed", the fix in the majority of cases only created new issues, because it still did not function or display as expected.
Even when Naxum developers had fixed something – cleared a critical item – it non-functional again only days later, causing new support tickets.
Cellements IT department reported the first 40 issues before we started tracking actual issues by number and grading them from Adjustments to Critical.
We have since reported over 60 tracked issues and still have 20 or so minor issues to go unreported, before we stopped. Every single link we clicked in the software generated multiple issues that needed to be fixed. There was no end to reporting and tracking errors.
We were still counting even after we hit three digit numbers, and we have not even tested the critical part of the system, the commission engine. We were only live with the software for less than 21 days.
As you see, we cannot guarantee a solid foundation for our partners to build a business, and with Naxum having the nerve demanding full monthly payments for a non-functional platform (that is not even branded to Cellements), we are forced to shut the business down.
Our conclusion
The events up to here and the situation at hand is no surprise to Ben Dixon. We were always very clear with our software demands. He knew the state of the project and the discrepancies between his promises and reality.  Us understanding the magnitude of the challenge, between the period August 2019 and July 2020, we gave Ben Dixon at Naxum, no less than five separate opportunities to bail out from the deal early.
He declined every single time. Meaning that this was a deliberate con. Our clear assessment is
Ben Dixon, CEO Naxum has knowingly deceived Cellements and our partners.
The team at Naxum is dysfunctional, unable to comprehend directives and deliver what is promised.
The processes at Naxum do not follow any sensible project management principles.
The programming procedures do not follow any recognized standards guaranteeing quality. Everything is coded page by page basis.
The core values posted at Naxums site are complete fabrication to lure future customers into a false sense of security, supplemented by Ben Dixons constant bombardment of superlatives.
Here is the team responsible for the shut down. https://www.naxum.com/meet-the-team.php
Legal proceedings will follow.
A message to our customers with pending orders: All processed orders will be sent out to you on time, as promised. For any claims regarding commission payments, registration fees and other refunds, contact [email protected]
Can we still buy the product?
Unfortunately not through Cellements – contact [email protected] for alternative suppliers.
What happens next?! We understand that the demand for our products is unprecedented. We understand that many of you out there are looking for a home based business. We want to deliver just that.
But we need the software to support such an endeavor.
We need something modern and customer friendly. We won't settle for anything less.
We need something tested and fully functional out of the box.
We need it up and running as quickly as possible. There is a pandemic and people need to build a second income – now.
We are looking for a solution that ticks all of those boxes.
If you are a software provider – please reach out to us at [email protected]
Team Business For Home reached out to Naxum for a statement, the response is here.
About Cellements
Cellements has developed a strong business model that takes these impressive products from the pharmacies and vaccination clinics to the average consumer through its Direct Selling Partners.
As a Customer focused company, Cellements goal is to offer economical products that can be used by millions for under $0.25 per day. Considering the costs companies incur with employees and sick leave, Cellments is perfectly positioned to help alleviate some of those concerns as a solution for companies to help minimize the spread of germs among its employees.
For more information please visit Cellements.