Dasher The Border Collie Becomes Touchstone Essentials' 4 – Legged Global Brand Ambassador
August 21, 2020
By Team Business For Home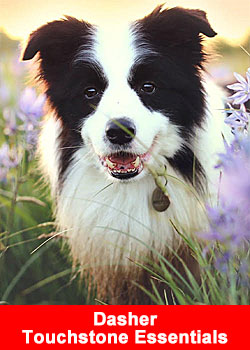 Touchstone Essentials welcomes its first four-legged, global brand ambassador, Dasher, a ten-year-old border collie and Instagram star.
In a recent interview with Touchstone Essentials' Founder and CEO, Eddie Stone, Dasher's mom, Jennifer Fish, owner of Dogs Gone Swimming Wellness Center, shared Dasher's story of diminished joint discomfort, renewed energy and a totally pawesome new quality of life thanks to Touchstone Essentials.
"I've had Dasher since he was born," says Jennifer. "Like most border collies, he loves to play and swim, but at 10 years old, his mind still loves to, but his body can't keep up. He has arthritis, and about a year ago is when I noticed it really started affecting his mobility."
When it comes to canine mobility, Jennifer is an expert. She is the owner of a wellness center for dogs called Dogs Gone Swimming in Portland, Oregon.
Jennifer says, "Arthritis and joint pain are some of the most common issues we see at the center. We specialize in aquatic healing and massage. I'm trained in hydrotherapy for dogs, and my sister, Emily Barnhardt is a licensed animal massage therapist and owner of Healthy Dog Breeder.

We have an indoor warm-water pool where dogs of all sizes, ages and mobility come to swim for overall wellness. Just like with humans, warm-water swimming is great for full body exercise with low impact."
 According to Jennifer, she's previously given supplements to Dasher with hit-and-miss results. But in the spring of 2019, she really saw the need and began a search for something that could make a difference.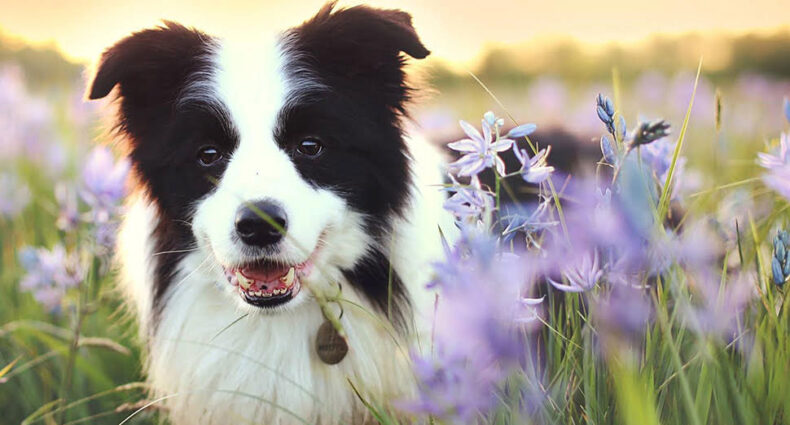 She says, "I started to notice that he couldn't go on the longer hikes we used to go on, or he would just get sore quicker from his playtimes. He would also sit awkwardly when exercising; you could tell he was in a lot of discomfort. He just had no stamina, which is heartbreaking when you know how much he loves to play."
It was her sister, Emily, who introduced Jennifer to Touchstone Essentials, and once Dasher began his new regimen it didn't take long to see some spring in his step.
"We were able to try several of Touchstone Essentials' products. He gets one Wellspring capsule a day and a dropper of Calm Pets CBD Oil, a dropper of Pure Body, and twice a day he gets 4-6 sprays of Pure Body Extra Strength and a quarter teaspoon of Super Green Juice."
Touchstone Essentials' all-natural, plant-based supplements are just as effective for pets as they are for humans and Dasher is living proof of what can happen with the good inside. According to Jennifer, the products are making a noticeable difference for Dasher.
"Dasher seems to have more energy and stamina with this regimen," says Jennifer. "For instance, he loves to swim, but prior to giving him the products, I was having to encourage him to swim for longer than 10 minutes. About a month after he began taking the Touchstone Essentials' products, he started swimming for about 20-30 minutes easily. He also seems a lot less sore and tired after activities." 
"I've tried other products before and none of them have shown any kind of significant difference. I'm certain it's the combination of Touchstone Essentials' high quality products that has made such a huge difference in Dasher's comfort and quality of life."
Follow Dasher on Instagram @dasherbordercollie and learn more about Dogs Gone Swimming Wellness Center at www.dogsgoneswimming.com.
Touchstone Essentials was founded in 2012 by 30-year industry veteran, Eddie Stone, with a vision of organic goodness accessible to everyone. They ship to over 60 countries around the world. Touchstone Essentials has been experiencing double-digit growth over the past 3 years and with the launch of the organic CBD Oil line, things have started reaching critical mass.
They describe themselves as proud rebels with a cause, offering products for Daily Detox, Organic Superfoods, and CBD. When you join as a VBO, you become a visionary business owner. As a VBO, you're the CEO of your own empire, but you're not alone. Touchstone Essentials offers an advanced digital marketing system with a trove of resources, all at no additional cost. This includes a TheGoodInside.com e-commerce site, blog, and e-newsletters, social media retargeting and more. For more information please visit www.thegoodinside.com
Recommended Distributors Touchstone Essentials