Small Business Owner Ash Braswell Discovers Direct Sales Success With Touchstone Essentials
August 28, 2020
By Team Business For Home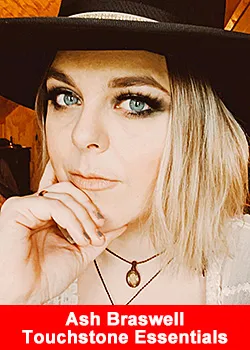 Touchstone Essentials' Visionary Business Owner [VBO] Ash Braswell has been a small business owner since 2006 and is a self-described "Jane of All Trades." A personal health journey led to her becoming a health and wellness coach so she could help others, and now she's studying to add more skills to her long list of talents, including Herbalist and Bioenergetic Practitioner.
While she always had a strong entrepreneurial spirit, Ash had never considered direct sales as a good fit, until she was introduced to Touchstone Essentials. According to Ash, it was Touchstone Essentials' commitment to its customers that opened her eyes to the opportunity:
"Transparency and honesty are what I look for in a company. When I started researching zeolite for detox, I was impressed with the depth of knowledge on the website, and when I called Touchstone Essentials' support team, I loved how open and friendly everyone was at the company. When the root of the tree is good, you know the fruit will be as well."
As a small busines owner, Ash knows the importance of integrity and that in today's world, reputation is everything. A seeker by nature, Ash did her homework and discovered that Touchstone Essentials is renowned in the direct sales industry, as evidenced by the thousands of five-star reviews the company has received from its thriving community.
Her decision to join was affirmed upon realizing that the people behind the company shared her same passion for sustainable, eco-friendly practices. Ash discovered that the company CEO, Eddie Stone was an advocate for organic farming practices. She shared,
"While most CEO's are off jet setting… Eddie Stone works hard on things that really matter. Eddie his family are in this for the right reasons. They genuinely care about the environment. The product line is organic, in eco-friendly packaging, non-GMO, and made in the USA."
Ash has found the organic, whole food supplements to be a perfect complement to her health coaching business, and that sharing the good inside comes naturally. Although she and her clients do have their favorites.
"While I use all of them, hands down the Calm 1500mg CBD Oil and Pure Body Extra Strength zeolite spray are my top two. Those are my personal favorites and top sellers," Ash revealed.
While living on a farm and homeschooling her children, Ash has always thrived in a multi-tasking environment. Now she's discovered that a direct sales business is appealing to a lot of moms in these challenging times who may be juggling virtual school and working from home.
"I don't have a set schedule, I fit work in as I go through the day. Most women I talk to about Touchstone Essentials also have some level of chaos or kids yelling in the background. We can all relate to needing a flexible income stream that works around our lives," shared Ash.
While Ash enjoys a successful business, she says being a go-to resource for knowledge that can physically and financially help others is what excites her the most. Her advice for people just getting started in direct sales is to give it a chance.
Ash shared,
"Stick with it. Getting started and getting your name out there is tough but it pays off. Early on I determined to keep my nose to the grindstone and just see what would happen, and it worked!" 
About Touchstone Essentials
Touchstone Essentials was founded in 2012 by 30-year industry veteran, Eddie Stone, with a vision of organic goodness accessible to everyone. They ship to over 60 countries around the world. Touchstone Essentials has been experiencing double-digit growth over the past 3 years and with the launch in of the organic CBD Oil line, things have started reaching critical mass.
They describe themselves as proud rebels with a cause, offering products for Daily Detox, Organic Superfoods, and CBD. When you join as a VBO, you become a visionary business owner. As a VBO, you're the CEO of your own empire, but you're not alone. Touchstone Essentials offers an advanced digital marketing system with a trove of resources, all at no additional cost.
This includes a TheGoodInside.com e-commerce site, blog, and e-newsletters, social media retargeting and more. For more information please visit www.thegoodinside.com
Recommended Distributors Touchstone Essentials