TLC Laces Up for Their Virtual 5K Event
August 19, 2020
By Nicole Dunkley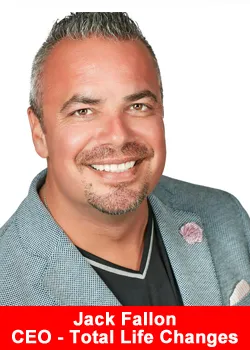 Total Life Changes (TLC) never stops the momentum; they even RUN towards positivity and growth. So naturally, a health and wellness company wants to encourage their independent business owners, called Life Changers, to stay active, even during these uncertain times.
This Virtual 5K encourages Life Changers to run or walk the 5-kilometer distance from anywhere on August 22, 2020. Keeping an active and healthy lifestyle is vital to TLC, and they never want to stop offering their community more.   As their core value states, "Our Standard is Giving More Than What's Expected." And they never disappoint. TLC chose to sponsor a local Detroit charity, Focus: HOPE, and touted a meter of $20K donations, with over $18K already achieved.
Focus: HOPE originally was founded during the riots of 1967 when funder Eleanor M. Josaitis and Father William T. Cunningham saw the disparities in the community and wanted to make an impact and bring about change.
Founder Jennifer Presley speaks about Focus HOPE on the August 13 Live with Jack and John broadcast:
"Focus: HOPE came about in 1968. And since then, we have been able to feed over 42,000 seniors a month. Despite what's going on, our seniors still need to get fed every month, and the money that's being raised today is going to our seniors… And also that money will be going to our Early Learning, where we house over 244 children, and we educate their families on better practices, health initiatives that they can start, we have a fathers program, a doula program, and this is a little to no cost to the families as well as their kids."
TLC's Director of Events, Tricia Crawford, says that choosing Focus: HOPE for their sponsored charity was a no brainer:
"Focus: HOPE is the identity of what Detroit stands for. We thought their mission much aligned with Total Life Changes' Core Values, and we thought it was a perfect fit. They walk the walk and talk the talk, and they have so many different avenues in which they help people."
Tricia is optimistic about TLC's 20K donation goal, and says that the community will be positively impacted:
"I think we will make a very significant impact on our goal because this is the largest donation we have ever received from our Life Changers. We have been doing events every month for years, and this is the foundation that people have felt the most connected to, and they are empowered to donate to them. They are leading the charge for change."
About Total Life Changes
Total Life Changes (TLC) is a direct selling company offering a diverse product portfolio of health and wellness products. Founder and Chief Executive Officer Jack Fallon created TLC 16 years ago with a single product: NutraBurst®.  Since that time, TLC has continued to develop weight loss and wellness products matched with an attractive hybrid binary compensation plan.
This allows Life Changers of TLC to be rewarded quickly for introducing new customers to its products and business opportunity. Find out why so many are saying, 'It really is different over here.' For more information, please visit www.totallifechanges.com
Recommended Distributors Total Life Changes