TLC Wraps A Virtual 5K Event
August 28, 2020
By Nicole Dunkley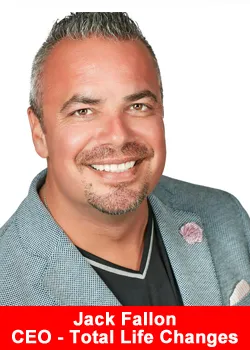 Walk or run, they all got it done! Total Life Changes (TLC) wrapped up its Virtual 5k Event on August 22, 2020. Employees and Life Changers alike walked or ran the 5K distance and had fun (while practicing social distancing). The entire company was invited to run or walk from anywhere in the world, and donation goals were exceeded to their sponsored charity, Focus: HOPE. COO John Licari wraps up the virtual event on the 2 PM Live with Jack and John, saying that it was a global event:
"This was happening around the country and around the world, we had our offices in Latin America, they participated as well. We had Colombia and Ecuador run this morning, Dominican Republic, and of course, TLCHQ too…We gave back to our community together."
Life Changer (independent business representative) and Georgia native Jermaine Hannon traveled out to TLCHQ and got a taste of TLC's culture:
"As soon as I got to where we were starting the 5K, I felt the energy. I came into the corporate office and felt the same energy. There was no place I would rather be. It was a last-minute decision, and God put everything in me to just come here and walk with you guys. I can't think of any better place to share this Virtual 5K walk than here with you guys at the corporate office, and I thank them so much."
TLCHQ then geared up for another broadcast full of giveaways on August 24, where the corporate staff and Life Changers were awarded for their hard work. The 5K first place female winner was Joselin Paramo, and the first-place male winner was Hector Munoz.
CEO Jack Fallon wraps up this broadcast with a message that resonates with us all:
"The 5K stemmed from all of our passions combined, and it was a new start. And we want our new start to happen every day, every week, and every month. What I mean by that is we need to put new ideas in place, like the 5K and the Virtual Event. We put all those in place to raise the level of energy. It just goes with everything that is at the core of TLC. That's what we are doing here at TLC, we're raising the energy level around the world through this vehicle, through our promotions, through our contests, through our charity donations. Passion is our fuel for sure."
About Total Life Changes
Total Life Changes (TLC) is a direct selling company offering a diverse product portfolio of health and wellness products. Founder and Chief Vision Officer Jack Fallon created TLC 17 years ago with a single product: NutraBurst®. Since that time, TLC has continued to develop weight loss and wellness products matched with an attractive hybrid binary compensation plan.
This allows Life Changers of TLC to be rewarded quickly for introducing new customers to its products and business opportunity. Find out why so many are saying, 'It really is different over here.' For more information, please visit www.totallifechanges.com
Recommended Distributors Total Life Changes