ByDzyne Launching First Ever Hybrid E-commerce Platform: BOS.Club
September 9, 2020
By Team Business For Home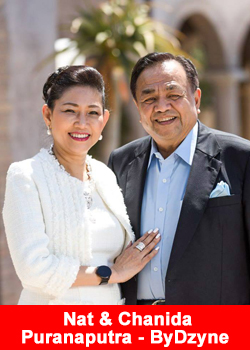 From the moment of its creation, ByDzyne's Co-founders shared their vision that the Company would always be at the forefront of trend setting directions.
This is certainly the case with the announcement that ByDzyne is launching the first-ever hybrid e-commerce platform, BOS.Club, where over 150 new product SKUs will be added within the next month. It's a powerful merger of the direct sales profession represented by hundreds of billions of dollars with the multi-trillion dollar e-commerce business model.
Several practical and powerful benefits from this hybrid e-commerce platform include but are not limited to:
Substantial discounts of up to 50% off wholesale prices of premium ByDzyne products and services.
Access to local vendors globally. ByDzyne believes in supporting local businesses and BOS.Club creates another economic avenue for them to have a global reach.
Access to popular brand name products. Through the network and relationships of the Co-Founders of ByDzyne, they have secured partnerships with giant global vendors often found on other traditional e-commerce sites like Amazon. These products will be cheaper and will also have Business Volume attached to it through BOS.Club
ByDzyne's Brand Ambassadors will have the ability to share in significant override income generated by the entire e-commerce revenue.
There is a significant loyalty program attached to BOS.Club which will reward BOS.Club subscribers with multiple day stays at world class hotel destinations around the world for FREE.
ByDzyne's BOS.Club paves the way to the critically important network marketing goal of stable and long-term residual income.
Nat & Chanida Puranaputra, ByDzyne's Chairman, passionately stated,
"From our earliest moments, we had a single focus to become a legacy-type of trend setting company.  We are extremely satisfied with the launch of our hybrid e-commerce platform because we know that this will give a brand new opportunity to massive numbers of people around the world to have direct participation in, not only network marketing, but even more significantly in the fastest growing business sector of e-commerce."
Two very important concepts stand out in this exciting new ByDzyne initiative.  First, the Company is not merely teaching about e-commerce.  Rather, they are e-commerce.  Doing e-commerce NOT just talking about it or teaching it.  Second, the Company executives fully understand the undeniable principle that fortunes are created from capturing trends before the masses.
Chad & Nattida, Co-Founders of ByDzyne said
"While we had no foreknowledge, of course, regarding the world's current pandemic situation, we certainly knew of the wildly successful growth of e-commerce systems even before this public health crisis.  With our early preparations and decisive business judgments, we were already perfectly prepared to take full business advantage of the exponential increase in the popularity and spectacular usage of this method of answering consumer demand.

Our ability to be nimble in execution and accurate in foreseeing such a world-changing trend has allowed us to be positioned at the very front of a forever-changed business landscape. And now it's never been easier, and never been cheaper. Low cost. Low risk."
About ByDzyne
ByDzyne's multi-faceted approach disrupts the traditional industry model by first understanding that one size DOES NOT fit all. You were born into a particular culture, with unique tastes, interests, and desires. Therefore, ByDzyne™ was created with a purpose to celebrate your uniqueness and empower your extraordinary potential. The company's exceptional "culture-crafted" products meet distinct needs in key consumer markets, and their lucrative business opportunity was formulated to fuel your ideal lifestyle, as YOU see fit.
This customizable approach is a driving force that propels everything ByDzyne does and will do in the future. They proved this by already establishing 4 distinct verticals: Technology, Training, Travel and Transform. And 8 industries are represented in these diverse categories of products and services: Forex, Online Marketing, Internet of Things (iOT), Lifestyle, CBD, Skincare, Weight Management, and Wellness. At ByDzyne's core, they believe that this "Power of Choice" offers not just opportunity, but security.
Ultimately, the perfect home-based business would have a catalog full of ever-evolving products and services, that would be relevant to all people, available in all markets, and at a price point that everybody can afford.
ByDzyne's mission is to be the most influential economic and cultural force in the industry. Thus, the goal is to continue to expand their global footprint into multiple verticals to maximize your income opportunities, capitalize on trends, and gain market share in upcoming industries as they advance. Their experienced executive team strives to stand apart from the pack, and build a legacy you can be proud of; one you can truly call home. We are ByDzyne™. Where limitations don't exist. For more information please visit www.bydzyne.com.